Church of the Red Museum
Saturday, October 7th
Carabar, Columbus OH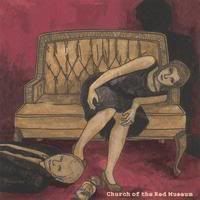 With a year or so under their belts and the enthusiastic buzz about them on the rise, Church of the Red Museum is striking while the iron is decidedly hot by releasing their first record this weekend. Self titled and appearing via local Manup Records, the album is a frenetic dash through 29 minutes of a Bohemian sounding dirge. Born largely from the reconstituted Columbus band Go Evol Shiki, the reassignment of players couldn't have resulted in a much more disparate or improved sound. Where GES was discordant and exuberant, Church or the Red Museum plods along in a somewhat less cacophonous, yet sinister sounding polka punctuated by a screaming wail.
For a band of relative newness, they spend a considerable amount of time focusing on expiry. With a vocal griminess and depth that will likely forever be (favorably) compared to Tom Waits, and the heavy somber sounds of pyre-worthy organs, these songs seem forever close to death- or at the very least, calamity. Lyrical content doesn't do much to dissuade the listener from the theme, as front man Brian Travis sings such foreboding lines as "there's no escape from the murder in my head…" and "there'll be a moment of truth before my baby breaks…There'll be a shotgun blast." While that sort of tone is almost universal throughout, one shouldn't confuse the proximity to a funeral with lifelessness. On the contrary, the songs have a compelling drive and energy. That is due in part to interesting arrangements of violin and muted trumpets, crackling guitars, and unusual percussion. While some tracks blend almost seamlessly, others have abrupt changes in tempo or feel within a particular song, so that the listener is held on edge.
In a year of absolute bounty regarding Columbus releases, Church of the Red Museum's offering will surely be a standout. There's an urgency, a darkness, and a uniqueness that makes it stick with you. Bravo.
Joining CoRM at the Carabar will be the guitar orchestra/hurricane that is Brainbow, punk blasters El Jesus de Magico, and The Hills Have Eyes.
MP3: Shotgun Blast