This one goes to 11. After a not-so-close examination of the music that I listened to a lot in 2006, the following 11 emerged as CDs that received multiple spins which makes them rather extraordinary in my book. Rather than writing 20 words about what each band sounds like, I've decided to give you an interesting fact about the band.
1. The Damnwells – "Air Stereo"
Interesting fact: Lead singer Alex Dezen appears ever-so-briefly as the "punk kid" in the movie "The Professional" starring Natalie Portman in her first film role. His part was left on the cutting room floor but might be included in the "deleted scenes" portion of the DVD.
Watch: The Damnwells live at the Ottobar (10/11/06)
Buy: Amazon
2. The Shys – "Astoria"
Interesting fact: The band was originally called The Gun Shys but changed their name to avoid confusion with the solo folk/punk act Gunshy.
Watch: The Shy's "Easy on the Eyes"
Buy: Amazon
3. Silversun Pickups – "Carnavas"
Interesting fact: The band's original drummer – lead singer/guitarist Brian Aubert's (now ex-) girlfriend – was named Elvira.
Watch: Silversun Pickups perform "Lazy Eye" on Letterman
Buy: Amazon
4. Model/Actress – "Model/Actress" EP
Interesting fact: Todd Phillips was in a band called Other Star People with Xander Smith (Run Run Run) and Jennifer Precious Finch (L7/The Shocker)
Listen: Model/Actress on MySpace
Buy: Amazon
5. Veruca Salt – "VSIV"
Interesting fact: The band made a behind-the-scenes documentary about the recording of the new album which can be downloaded here.
Watch: Veruca Salt performing "So Weird" live on CDUSA
Buy: Amazon
6. Dixie Chicks – "Taking the Long Way"
Interesting fact: Rick Rubin, noted for his work with artists like Slayer, the Red Hot Chili Peppers, and the Beastie Boys, produced the latest effort by the Texas trio.
Watch: The Dixie Chicks perform "Not Ready to Make Nice" on Yahoo! Music
Buy: Amazon
7. Snow Patrol – "Eyes Open"
Interesting fact: Lead singer Gary Lightbody lends his vocals talents to a project called The Cake Sale which was put together by Irish musicians to help support Oxfam Ireland's Make Trade Fair campaign and their overseas program work.
Watch: Kelsey sing along with Snow Patrol's "Chasing Cars" in front of her webcam
Buy: Amazon
8. Bel Auburn – "Lullabies in A&C"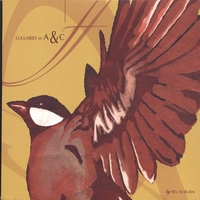 Interesting fact: The Ashland, Ohio band wrote a song to celebrate the birth of my daughter Piper in July 2005. Download it here.
Watch: Bel Auburn photo montage
Buy: CDBaby
9. Army of Anyone – "Army of Anyone"
Interesting fact: A 24-second voicemail message that Richard Patrick left on Louise Post's answering machine ("I got my pants on!" repeated over and over) is featured on Veruca Salt's 2005 EP, The Lord of Sound and Lesser Things.
Watch: Dean DeLeo cover Led Zeppelin's "Rain Song" live
Buy: Amazon
10. Slayer – "Christ Illusion"
Interesting fact: The band's latest release was banned in India after religious groups complained about its cover depicting a mutilated Christ.
Watch: Slayer's "Eyes of the Insane" video
Buy: Amazon
11. Damone – "Out Here All Night"
Interesting fact: A series of (bogus) public service announcement featuring Damone are available for viewing on YouTube.
Watch: Damone perform "What We Came Here For" on Fearless Music TV
Buy: Amazon
Also up for consideration but not quite top 11 material (in no particular order):
In Flames – Come Clarity
Howe Gelb – Sno Angel Like You
Glen Hansard & Marketa Irglova – The Swell Season
Warrant – Born Again
Magnolia Summer – From Driveways Lost View
Slunt – One Night Stand
Dear Leader – The Alarmist
TV on the Radio – Return to Cookie Mountain
Bob Dylan – Modern Times
Jon Auer – Songs from the Year of Our Demise
Shawn Mullins – 9th Ward Pickin' Parlour
Sean Lennon – Friendly Fire
As Tall as Lions – As Tall As Lions
Sparta – Threes
South – Adventures in the Underground Journey to the Stars
Mute Math – Mute Math
John Kastner – Have You Seen Lucky
Wolfmother – Wolfmother
The Pretty Weapons – The Pretty Weapons
Zero Star – Forever's Really Not That Long