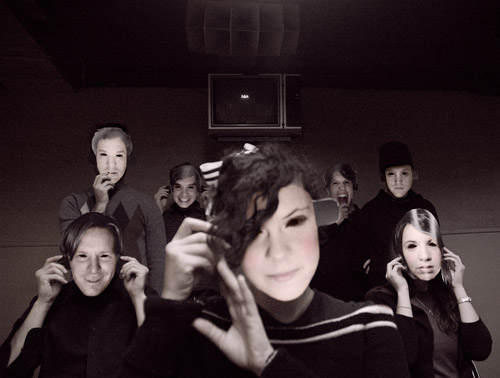 Arcade Fire's much heralded full-length debut, 2004's Funeral, traversed big issues like love and death and the terrain in between, adeptly wrapping such grand topicalities in an equally powerful musical uplift. Towing a paradoxical line, it was as much about purging loss as it was celebrating life's little victories.
The Canadian band's much anticipated follow-up, Neon Bible (Merge), doesn't back down from larger concerns. "(Antichrist Television Blues)," despite its title, is more Springsteen than Dylan, a blue-collar lament to God for a job that both pays the bills and fortifies the soul. Elsewhere singer Win Butler concerns himself with the foreign policy of his neighbors to the south. "I don't want to fight in a holy war… I don't want to live in America no more," he sings in his Byrned warble on "Windowsill."
Of course, it was Arcade Fire's mix of organic pop sounds and post-punk thrust that captivated so many ears, and in that regard too, Neon Bible is every bit its predecessor. Darkened hues clash with sparkling melodies, with Butler calling out from somewhere within the vortex, singing with equal vulnerability and ardency. Without being redundant, the band has conjured an album undeniably magical.
MP3: "Black Mirror" by the Arcade Fire
BUY: Amazon.com | Deluxe CD Version