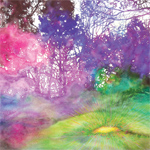 A wealth of unfettered praise is about to bloom for Delaware Water Gap, Pennsylvania's Lewis and Clarke if and when their Blasts of Holy Birth falls into the right hands. Parallel to the new universe of delicate, folk-based yacht-rock (see Band of Horses, Iron and Wine, Horse Feathers), but in no way equal, the album uses that world only as a foundation rather than relying on obvious hooks and more obvious instrumentation to pluck at the heartstrings. In some respects even strains of Bright Eyes surface here and there, but surely singer/songwriter Lou Rogai has experienced the overwhelming beauty of lonesome country, rather than listened to a history of lonesome country records.
Instead, Blasts of Holy Birth is a deeply personal record, crafted with a subtle hand that lends to multiple new awakenings with each new listen. The album is more a cohesive exploration into the quiet self, not a batch of songs pasted together like postcards from the road. It's hypnotic and meditative even, blank and quixotic. There's as much an Eastern tinge to Blasts of Holy Birth as there is an instinctive attachment to rural slowcore and the acoustic symphonic.
"Comfort Inn," begins, in earnest, as a soft-spoken, finger-picked, near-hymnal folk, and slowly evolves into a lulling tapestry of intertwining melodies of harp, bowed strings, chimes, and pit-er-pat percussions. "Black Doves" continues towards enlightenment through its introduction of tablas, and dark tones of nothingness. And Rogai's centerpiece, "Before it Breaks You," takes to task combining the many strengths and mysterious hidden mazes of Holy Birth, into a ten-minute epic capable of producing both tears of remembrance and a third-eye vision, should the listener indulge enough in it's multiple folds.