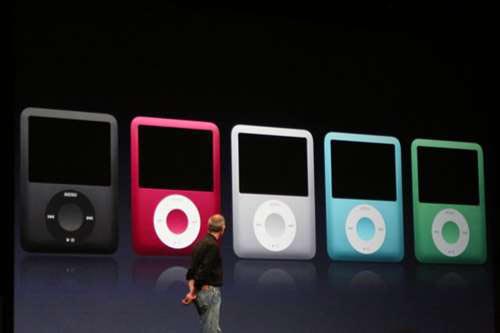 Bullet points from the Apple annoucement:
Ringtones
* Custom ringtone maker built into iTunes
* Custom ringtones including songs you already purchased, over 500,000 participating songs
* Once you make ringtones, sync them right to your iPhone
* Ringtones only 99 cents in addition to song price (so $1.98 total)
* Little bells next to eligible songs in iTunes
Shuffles
* (PRODUCT) RED shuffle, 1GB of storage for $79
* new shuffle colors
NEW NANO
* games
* screen 320×240
* 2″ screen
* Cover Flow
* Metal
* video
* 4GB comes in silver at $149 and 8GB in all colors for $199
* No touch screen
* 24 hours of audio playback, 5 hours of video playback
FULL SIZE IPODS
* Touch screen, called "iPod touch"
* Shipping today, should be in stores soon
* new user interface
* 80GB now sells for $249 and 160 for $349
* original iPod design will be called "iPod classic"
* iPod classic starts at 80GB, higher-end at 160GB
* 160GB iPod classic has 40 hours of audio and 7 hours of video playback
IPOD "TOUCH"
Touchscreen: like iPhone
$299 and $399. 8GB and 16GB of storage
22 hours of audio playback, 5 hours of video playback
WiFi, 802.11b/g
iTunes WiFi Music Store
"When you get near a Starbucks a fifth button will come up in the WiFi music store — you may have been in a Starbucks wondering what song is that playing? Now you can buy it with a tap of your finger. And if you just missed it, you can still find it…"
IPHONE
Concentrating on 8GB model, dropping price to $399
WiFi Store will be available by software update.