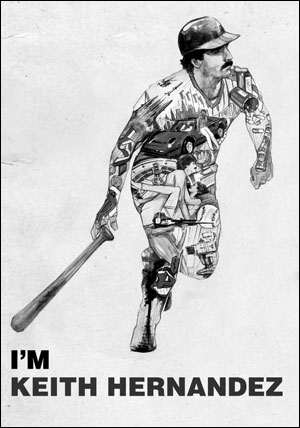 Each Autumn, as the MLB season season enters its stretch run towards the World Series, baseball fans and cable buffs alike are treated to an endless stream of old playoff reruns and classic baseball films. This year, budding filmmaker Rob Perri attempts to enter that singular forum with a bang as he unleashes I'm Keith Hernandez, an 18-minute masterpiece that cleverly mixes archival television footage (and a bit of racy film history) featuring the greatest defensive first-baseman ever, Keith Hernandez.
Think Heavy Metal Parking Lot meets TV Carnage at Shea Stadium, or one of those Sports Illustrated give-away videos mixed with channel 99. Complete with vintage 80's editing techniques, a straight-faced, professional voice-over and a soundtrack of the times, I'm Keith Hernandez has the look and feel of an uplifting This Week In Baseball special from 1989. Perri uses this familiar format to paint a sensational, partly fictional account of Hernandez' days as a drug-fueled, lady-slaying hit machine with the Cardinals and Mets. And then there's the mustache.
The film blurs the line between fiction and reality so perfectly that you begin to believe each and every conspiracy Perri unravels. Was Hernandez really involved in Iran-Contra? Was he the gateway to hard drugs for teammates Dwight Gooden and Darryl Strawberry? Is that him in a porno? Truth flies out of the ballpark and up the nose and what's really important is the Myth of Hernandez, a legend perpetuated by one the more famous Seinfeld episodes. It's all held together by Perri's rapid editing and keen focus on the essential here: sex, drugs, mustaches, and baseball. Perhaps a new genre has been born, the exploitative-biopic mash-up. At least I hope.
In a recent Village Voice article Perry talks of hopes to distribute his short the old-fashioned way, via traditional screenings and hand-to-hand dvd sharing (he sent me a copy after a brief email), and is apparently trying like Magnum P.I. to keep Hernandez off YouTube. So if you are interested in viewing I'm Keith Hernandez maybe I can set up a screening sometime soon, or if you wish I can pass along my copy or a burned copy. If you're a baseball fan who lived through the 80's or just in need of some sensational post-modern personality exploitation this short film is a must-see.