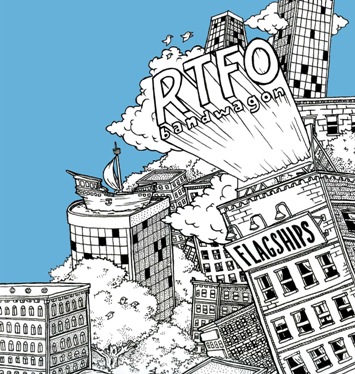 MP3: Fingers
MP3: Mother's Might
Like last year's blissful triumph Dragged Out by the now formidable local powerhouse The Lindsay, Flagships, the debut from RTFO Bandwagon (brought to you by the Columbus Pancake Factory), is not an album that meanders in amateur fidelity or suffers from underdeveloped songwriting — instead it forges a unique identity for the young band right out of the gate. That mix of confidence and innocence results in a record full of wide-eyed enthusiasm, eccentric jives on theatrical folk and the traditional jug band, and nervous indie melody formed to fit exciting new shapes and oddball arrangements.
The most striking element of Flagships is the near constant harmonies of Andrew Graham and Jen Boyce. The instinctual interplay between the two voices is clearly twee as fuck, but not too cute to sugarcoat the duo's sharp permutations on sex, death, and religion (with no editing the gory details in between). Or better yet Graham's choice of sparse instrumentation; a fettered acoustic amplified and abused, rickety percussion, motley globs of melodica, and the occasional sweep of strings perfect for pricking hearts.

An ear for both the rustic and regal give songs like "Me or You or Jesus" and "If Your Heart Deceives You" a ragged complexity, hearty compositions recalling the labyrinths of British folk (like Fairport Convention or Pentagle) wrapped in back porch spirituals. But we're also convinced these are tunes off the cuff, borne of spontaneity and fueled by rapture.
"Mother's Might" (a stand-out among an album void of duds) could very well be Royal Trux had they ditched the drug-addled sloth blues for Sunday school clothing and pure living. "Children are Expensive" is woozy ebullience worthy of Malkmus, "Monitor Bot" the classic man vs. machine battle coiled in a choir of dark tension, or "Some Other Wolves" (an epic in RFTO standards) in which the guitar's careful, fret-encompassing tread tells as much of a story as the words.
Graham truly does possess a sound all his own — a quirky, jittery, almost punk attitude towards intricate and adorable pop songs. It may very well take some work, some aural labor to ingest just exactly what the RTFO stands for, what they've no doubt worked months (perhaps years) to achieve, but that just makes Flagships that much more rewarding. Soon that acronym will most likely stand among other abbreviations (TNV, EJDM, TEP, NOP, NCRPS, PHS) synonymous with our healthy scene. Just one thing is left to question, what exactly do those letters stand for?
RTFO Bandwagon will be celebrating the release of Flagships at Cafe Bourbon St. on Friday, with support from the Black Swans, Psychedelic Horseshit, and fellow Pancake Factory Member, Marie Corbo.