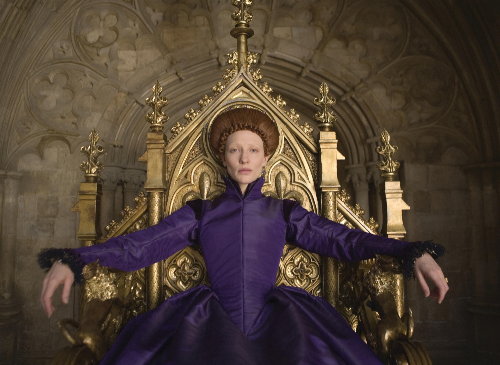 Cate Blanchett and director Shekhar Kapur return to the scene of their greatest triumph, 1998's Elizabeth, for a rather tardy sequel, this one covering some of the most dramatic elements of the sixteenth-century monarch's reign and, come to think of it, English history in general.
There's something a little sad about the film's very existence, as if Kapur hasn't found anything better to do in the last decade (His only film between the two was the two hundreth adaptation of The Four Feathers), and while Blanchett's gone on to great success after her career-making turn, it seems a little unnatural for her to make this film now.
They're rejoined by Geoffery Rush as Elizabeth's advisor Sir Francis Walsingham, and writer Michael Hirst, who gets an assist this time out from William Nicholson, whose past historical dramas haven't exactly been celebrated for their veracity (Gladiator, First Knight). Whether it's Hirst's influence, or the influence of the out-sized historical events being covered or the simple adherence to the sequel formula of bigger and more of everything, this Elizabeth is almost hysterical in its overwrought symbolism, over-written scenes, and explosively acted characters.
Not that there' s anything wrong with turning a historical costume drama about Queen Elizabeth into a cross between a romantic fairytale and a fist-pumping celluloid myth—if there are any remarkable weaknesses to the film (provided you're not offended by the occasional shot that betrays Kapur's ham hand), it is that it never goes quite far enough in those directions.
When the underdog English navy, assisted by some of the pirates you've read about in junior high history, engages the CGI Spanish armada, 300-style gonzo action might have been appropriate, but Kapur keeps the sea battle sub-Pirates of the Carribean in scope. When pains are taken to show that God has chosen England over Spain by sending a storm to sink the latter, it's a remarkably restrained scene for something purporting to depict, you know, God himself taking up arms for England. Likewise, Kapur doesn't go as far in the direction of silliy cinematic fairy tale as he could have, hewing closer to romance novel cover realism than something more daringly cinematic like, say, Marie Antoinette, which Golden Age resembles in a few early scenes.
So at times the proceedings get a bit frustrating, as Kapur and company flirt with making a much better movie than the one we're ultimately left watching, and it therefore plays wrong here and there (Oddly, some in the preview audience I saw it with snickered at the parts that were true, and were quiet during the parts that strained credulity past the breaking point). But it's a beautiful movie full of beautiful people in beautiful costumes doing grand and important things, with a knockout performance by Blanchett acting as an axis for it all to revolve around.
It's 1585, and Spain is under the rule of King Philip II (Jordi Mollà, whose haircut and beard make him look more than a little like Mel Gibson), the Catholic king who is quite clearly both nutty and evil because he walks funny, talks funny and is followed around by his creepy little daughter Isabel, who fingers a doll of Elizabeth as if it were a voodoo doll. Since England is protestant, Philip (and the pope…and France…) would very much like to conquer it, installing Elizabeth's cousin and rival, the insane (and smoking hot) Mary Queen of Scots (Samantha Morton), on the throne in Elizabeth's stead.
Wise, beautiful, brash, benevolent Elizabeth isn't too worried though. When we first meet up with her again, she's at the top of her game, even if she seems most concerned with flirting with her lady in waiting Abbie Cornish, as if the Virgin Queen were actually the Schoolgirl Queen.
Right up until she's completely undone by the sudden appearance of dashing explorer/pirate Walter Raleigh (Clive Owen, charm turned up to all the way to eleve–eh, let's say twenty-one). He fiercely flirts with the queen, in fact everything he says in the first half of the movie sounds like a come one, and is certainly the one for her. But damn royal protocol—heavy hangs the heart that beats in the chest of the body upon which rests the head that rests the crown.
A hearty buffet of a movie, with some romance, action, political intrigue, thriller elements and spectacle for spectacle's sake, falls far short of being a great film, but man, it sure is a great time.