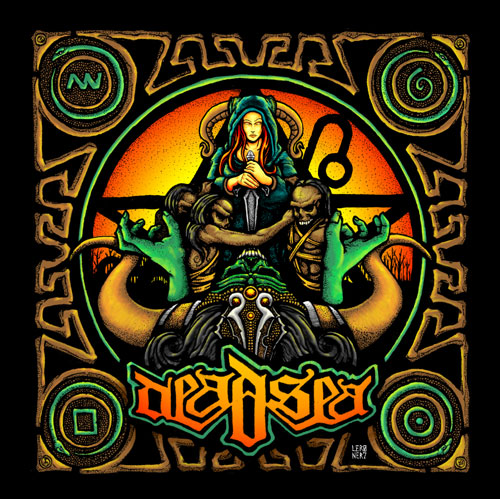 MP3: Killing Faith by Deadsea
I've been known for saying that Deadsea are the world's greatest metal trio and even if sophomore album Rising is a slight disappointment, I'll stand by that proclamation. The hesher subculture has become increasingly fragmented over the years – there are so many genres of metal it's hard to keep track. Somehow Deadsea gobble up all of it and use it to fuel their dark aural empire. It was that fusion of extremes that made Desiderata a punishing and transcendent maze.
Here things sound a bit frantic, as Rising has a heightened awareness of thrash. "Killing Faith (Crying Death)" in particular could be Sepultura on a meth binge as guitarist Adam Smith plays with unmatched speed leaving dizzying trails in his wake. The same agility propels "Assault," another relentless sprint that manages to tap the spinal fluid of hardcore punk. Few bands keep their melodic leanings intact among such tenacity, but Deadsea seem to thrive in the midst of technical challenges.
My only hesitation with Rising, and this is really nitpicking, comes with song choice. The first two tracks, "Northwitch" and "Coming Home," are longtime live staples and "Frozen Rivers" a tale told many times from the stage. I'm assuming though that Smith didn't want these masterstrokes to remain buried and in the context of Rising, the newly recorded "Frozen Rivers" is a perfect fit as the album's penultimate epic. Regardless of my qualms, connecting with Deadsea is a spiritual link. What Rising may lack in maledict adventure it easily makes up for in sheer power. It's an altogether different mass.
Deadsea, 333, and Nightsoil are all releasing albums tonight at Ruby Tuesday's in Columbus OH. Click here for more information.