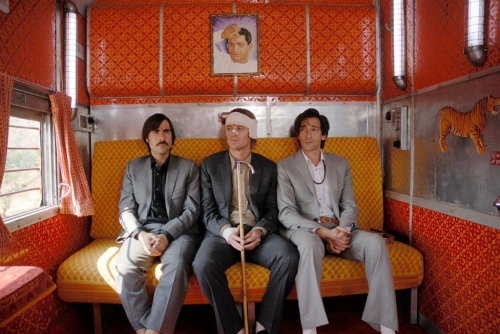 The Darjeeling Limited is the new Wes Anderson movie, and any review beyond that simple statement seems a little superfluous.
At this point, if you've seen any of Anderson's films, then, in a sense, you've seen them all. At the very least, you know what to expect going in: brilliantly designed if over-precious curio cabinet-style set design, a great soundtrack that does a lot of the storytelling by itself, at least one Wilson brother, a wry sense of humor, funny names for places and characters, and a drifting tale of rich, talented people struggling with their own ennui and their place in the world.

Anderson's predictability isn't necessarily a bad thing. After all, if you like one of his movies you can be pretty sure you'll like the rest of them, even as his co-creators shift (Following The Life Aquatic, this is his second Owen Wilson-less script; here he collaborates with star Jason Schwartzman and Roman Coppola).
Anderson seems to acknowledge this himself in the construction of the film. Most of it revolves around The Darjeeling Limited, a train that will carry the three Whitman brothers—played by Owen Wilson, Jason Schwartzman and Adrien Brody—on a tour of "the most spiritual places in India," where they hope to reconnect after not seeing one another, or their mother Angelica Huston, since their father's funeral a year ago.
The train itself is like a rolling Anderson movie, all over-designed in nostalgic colors and patterns, jostling with interesting characters and dry sight gags, something half acknowledged in an opening scene in which Anderson regular Bill Murray races to catch the already speeding away train, and he's outpaced by Anderson newcomer Brody. It rumbles into fresh, new, exotic territory—the Indian countryside!—but it (or a similarly colorful train) is always nearby for the characters to retreat to.
On one hand it's interesting to see Anderson exploring this new territory, even in such a safe way, but it's also a bit disappointing. Just about everything outside the train (and a flashback to the day of their father's funeral) plays like Old Hollywood exotica, and there's no real context to any of the Indian people, temples, markets, religious services or villages they visit—it's all just otherness to contrast against the American characters, which gets particularly uncomfortable about half way through, when something traumatic happens involving one of these "others."
As for the plot, such as it is, each of the brothers is struggling with some specific personal turmoil that they hope to make peace with on the trip. Wilson's head is wrapped in bandages, holding it together after a motorcycle injury, through which he emanates Dignan-like enthusiasm and planning. Brody is about to become a father, but he hasn't let go of his own father yet, as evidenced by his kleptomania concerning their father's possessions. And Schwartzman's mustachioed writer is nursing the wounds sustained in a nasty break up with girlfriend Natalie Portman, as detailed in released-online short film Hotel Chevalier.
Plot is really secondary though, whether intentionally so or because of a weakness in Anderson's storytelling abilities. Taking precedence is the evocation of certain emotions, and the capturing of beautiful images, and on that score, Anderson is better than ever. The Indian landscape, and the stars running down its hills in their pajamas or chasing a train in slow motion through it, help make this perhaps his best-looking film yet.