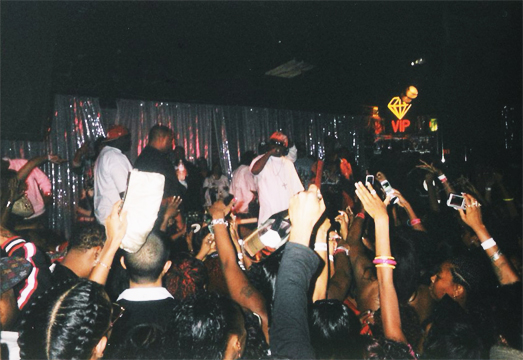 All photos by Johnny Cashola on a crappy disposable camera.
Me and a few friends went and watched Gucci Mane perform at Club Ice last Friday. Gucci is a man that has sold 500,000 records independently with a label that he has left and is fueding with, a man that sent a friend of Young Jeezy's to his grave, and has the streets on smash right now with his hit "Freaky Girl". The night was a spectacle of great porportions complete with a member of the SwatTeam rocking a bullet proof vest and carrying a Machine Gun looking in a manner that resembled a StormTrooper walking up and down Long street, a news crew from godknows where, a two-hour line wait which resulted in the door prices being jacked up to 300 dollars on a 20 dollar ticket. Then there was the actual show.
For those that don't know who Gucci Mane is, please allow me to get you up to speed. Gucci Mane first broke on the Trap-Rap scene with his collab with Young Jeezy, "So Icey" in 2005. There was a dispute over that song in some capacity, either Jeezy claims he wasn't paid for it, or Gucci Mane's former label Big Cat Entertainment argues that Jeezy wanted to buy the song for his own use and didn't come up with the bread. The song came out on Gucci's album "Trap House", and eventually led to diss songs back and forth.
Young Jeezy offered 10 Thousand Dollars up to anyone that could present Gucci Mane's chain to him. A stripper tried to set Gucci up by having four men show up to her house who pistol whipped him and tried to rob him. Gucci Mane wasn't having it, and he shot and killed one of the men. Gucci went up for trial, and was acquited on grounds of self-defense.
In 2006 Gucci followed up "Traphouse" with the aptly titled "Hard to Kill" which featured the song "Pillz" which detailed Gucci taking xtc and getting annoyed by females that are killing his high. It was an anthem whether you were geeked up or just a little bit drunk. The album also had a song called "Go Head" discussing the idea that big bottomed girls make the world go round. Between the whole murdering Jeezy's friend thing and having street hits, Asylum/Warner came knocking and gave young Gucci a major label deal.
His former label Big Cat still has a back catalog of music and despite getting a large chunk of money for Gucci's rights felt like the "crackers" at the majors deserve to be milked. So last month they put out "Trap-A-Thon" a collection of Gucci's songs. This release is hilarious cause between Gucci's songs it has Big Cat's owners counting the money they are making off of Gucci, and saying how they are gonna let him live cause the millions of dollars he is earning for them.
Gucci has denounced this release, and asks his fans to support his official release in November on Asylum called "Back the Traphouse". Both "Trap-A-thon" and "Back to the Traphouse" feature versions Gucci's current hit "Freaky Girl" which has been gettin a lot of burn on 107.5 recently. I listen to it every day while I pour my vanilla soymilk onto my Puffins.
So when I heard Gucci was coming to town I headed straight to Kroger's to cop a ticket. We got to Club Ice, and there was a line around the block. We headed towards the back. We had a squad of English girls from A+F with us cause they have nothing better to do.
Because our squad was melanin challenged some camera crew ran up on us. I told the crew that these girls flew in from England just to see the Gucci Mane. The camera crew asked them all kinds of questions, and then queryed if they were very "Freaky Girls". The Brits had no idea what that was Gucci's hit right now, cause they listen to like Indie Rock ,Weed Steeler, and dance music. So the camera crew asked me if I was looking for a very freaky girl. I was like hell yeah I am. The song plays off of Rick James likes this:
"She is a very Freaky Girl, the type you don't bring home to mother. First you get her name. Then you get her number. Then you get some brain in the front seat of the hummer."
I tried to explain to the lady that if I don't own a Hummer, so if I met a girl that owned a Hummer, and fullfilled the other criterias mentioned in the song, I would in fact bring her home to my mother. That would be wife material. I don't know if she got my point or not. I just hope I end up on You tube or a DVD.
After this was done we waited. Word got out that if you didn't have a ticket, it was 100 at the door. So everyone in my entourage but Cashola and M. dipped. I noticed the crowd was 60 percent women. Given the fact that Gucci Mane's hit "Freaky Girl" hook is what I previously mentioned, I thought it was funny that a bunch of females were about to pay 100 dollars to hear a man demand oral sex in an enviromentally unfriendly automobile. Oh Oh, Young Gucci Mane.
The girls were nice to us, and kept asking us to rap Gucci Mane songs cause they found some sort of humor/cuteness about it. They weren't feeling any white girls that walked by, though. The main idea is the white girls have not the backside to provide Gucci Mane with what he needs. I was fine with this cause all the white girls looked either like Trannies or smelled like public school lunch. Like a really gross ravoli or something. Definately something with a red sauce that looked orange.
The Columbus Police were in full effect mode. Like I said before there was a mane, not a Gucci Mane, but a large white mane excuse me Man that had was brandishing some sort of automatic rifle. I wonder what security package that is. Perhaps we will get one for the Daymon Day Parade next year. The Stormtrooper would keep people off the sidewalks, which also helped the valet who parked several absurd cars. Including two soda themed Chevy's one was patterned after Sprite, the other was Pepsi. Both cars were up on really big Spinners, and had the afformentioned soda logos on them.
Eventually they let ticket holders in. Which caused lots of arguements by people that claimed to professional football players and the club's security. The doorman's conflict resolution was that if they truely possess the capital that is usually involved with such a vocation then a 300 dollar admission wouldn't be that outlandish. My 20 dollar ticket got me in, and it was off to the show.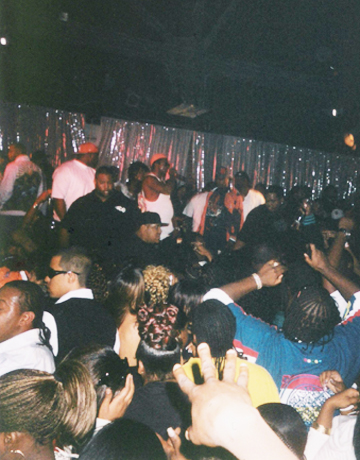 Right when we got into the mainroon, Gucci took the stage. He did a couple new songs. Then he did "Street N's", and "Go Head".
</a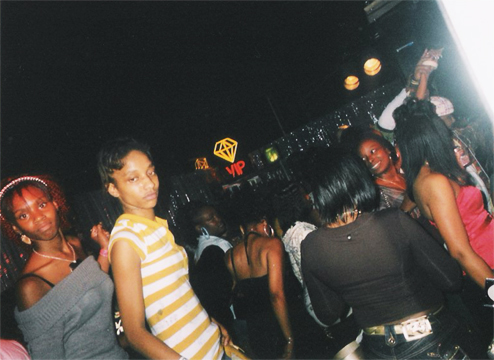 Like I said. The crowd was at least 60 percent female.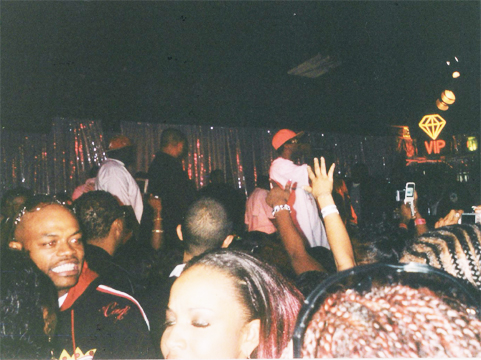 Gucci called his former label "Big Cat" Big Pussy. The crowd cheered. He urged them to pick up "Back to the Traphouse" and not "Trap-a Thon".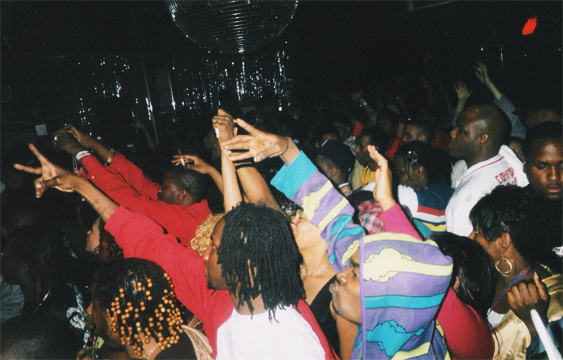 The original version of "Traphouse" got the biggest response.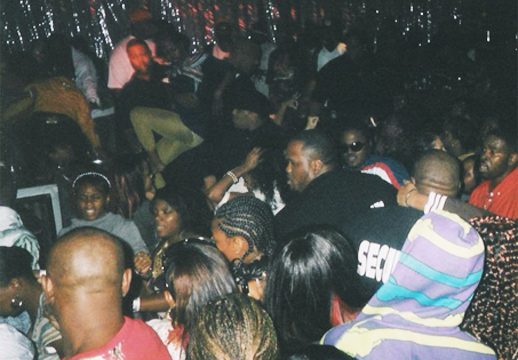 When he did "Freaky Girl" some girl got on stage and tried to be a very freaky girl with someone for Gucci's team. If you look close at this photo you can see her getting yanked off stage by security.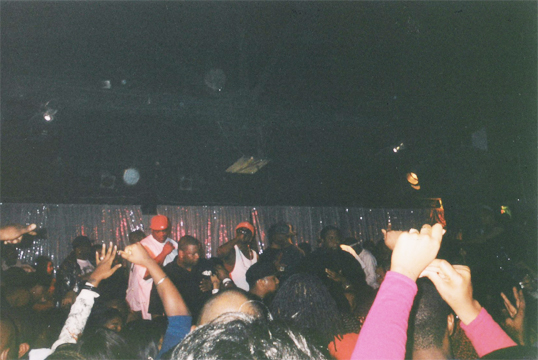 Pillz is still my favorite.
All and all the show was great. The crowd was mad energetic. There were pushpits. And the only skirmish were between females that wanted to get close to Gucci.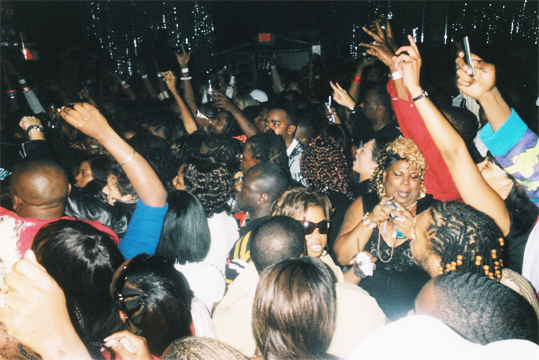 At the end of the day, all the people were happy. I mean lets put this in perspective. Arcade Fire played an outdoor show at Promowest Pavillion a few weeks ago. AF and Gucci Mane sold about the same amount of records last time there were out. Imagine how fun it would've been to see that show at a venue the size of the frontroom of Skullys.
Goodtimes.