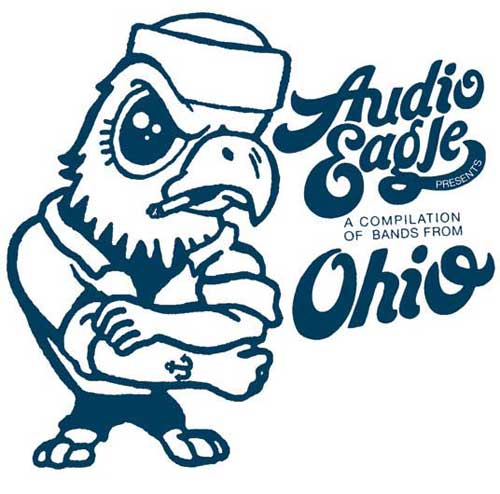 MP3: Secret Histories by Brainbow
MP3: It's a Bubble Bath of Sharks!!! by Beaten Awake
Akron label Audio Eagle (launched by Pat Carney of The Black Keys) has released a new compilation of songs from bands all across Ohio. Featuring such donewaiting.com favorites as Doug Gillard, Deathly Fighter, Six Parts Seven, Brainbow, and Gil Mantera's Party Dream, it really is a nice artifact showcasing what's going on here.
You can pick up the record in various independent record stores throughout Ohio or directly from the label.
1. Doug Gillard – For What I've Done (North Carolina/Cleveland)
2. Goodbye Ohio – Gabrial (Akron)
3. Coffinberry – Earthworms In the Sun (Cleveland)
4. Machine Go Boom – Gentleman's Reply (Cleveland)
5. The Strange Division – New Way of Thinking (Akron)
6. JJ Magazine – Dinner (Cleveland)
7. Beaten Awake – It's a Bubble Bath of Sharks!!! (Kent)
8. Clouds Forming Crowns – Let It Take Hold (Cleveland)
9. Buffalo Killers – The Path Before Me (Cincinnati)
10. The Black Keys – Nobody But You(Akron)
11. Hell's Information – Song Six (Akron)
12. Deathly Fighter – New Variations on Themes (Columbus)
13. Six Parts Seven – Stolen Moments (Kent)
14. Brainbow – Secret Histories (Columbus)
15. Southest Engine – We Have You Surrounded (Athens)
16. The Same Things – Red Carpet (Akron)
17. Goodmorning Valentine – City Lights (Akron)
18. Heartless Bastards – All This Time (Cincinnati)
19. Houseguest – King of Crystal Skies (Akron)
20. Celebrity Pilots – Let the Shade Shine In (Cleveland)
21. Gil Mantera's Party Dream – Chalklit Pyhe II (Youngstown)
(tracklisting links lovingly jacked right from the code of I Rock Cleveland, where they're running a contest to win copies of the album)