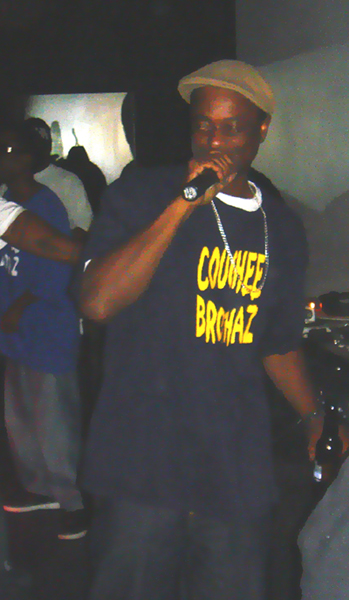 Picture of Devin the Dude by Johnny Cashola using a Crayola Crayon
 Last Week, On the Floor brought Devin the Dood through Columbus on tour with Del the Funkee Homosapian, Bukue One, and a few other independent Hip Hop acts. Word about Del signing a contract with Def Jux, with an option for a Del-P album, after his first Jux album hadn't traveled around, so most of the buzz was around Devin. Del had been here a million times, and the current state of Hip Hop in many ways celebrates Devin being from the South more than Del's love of video games and rapping about absolutely nothing most of the time. I mean Devin was on the Chronic 2001. Del..his mainstream exposure is…the Gorillaz. Who for me are kinda like Coldplay for people that prefer anime over VH1. Thats not to say Del isn't a legend and I didn't pierce my nose, wear big headphones, big pants and skate with small wheels during Hiero's heyday. I am just saying Devin the Dood seems a little more interesting these days than Del.
Any way Devin called me about 5pm day of the show, and asked me if it was cool for him to come kick at Mag's after soundcheck. So of course I was like shoot through.
Pictures of me looking corny with Devin, and show review after the jump.

Devin and I going off of poses I used to see rappers do in the back of the Source.
SO Devin shows up around 8 with with like 15 of his closest friends from Houston. They sign posters and kick it. Real chill. They smell like very potent sweet marijuana. The Coughee Brothers, who Devin is on tour with are actually members of his crew the Odd Squad. The Odd Squad was Rap-A-Lot's weird rap group in the Early 90's. I mean think about Houston rap. Think about the Geto Boys, and the 5th Ward. Then think about being a weirdo in and from that context. I guess Devin is still down with his friends.  Devin was putting his doods on, and the reason he was touring with Del was so his friends could get some burn.
They ended up buying a bunch a stuff at the store. Devin is huge fan Wild Style, the early 80's graffiti movie that starred graffiti , and Hip Hop pioneers. He ended up coping the lastest reissue of it on DVD, and a coffee table book that had glossy photo's from the movie. We kicked it on some being old and into Hip Hop shit, and then he bounced out to get ready for the show. Everyone in his crew copped a Public Enemy hat.
DCKareem catches Cashola and I looking like McGlovin and Mack 10 around Devin
 Devin's and the Coughee Brothers performance was trilly fun. Devin gave the crowd his joint off the Chronic 2001. He also did "Doobie Ashtray". He kicked his verse from that jawn he has with Andre 3000 and Snooop. During I realized that Devin may have had some influence on Andre's flow. I had always considered Devin kinda like Chris Tucker meets Nate Dog because of the sing -song nature, and humor of his music, but when he actually raps, he is fairly technical and insightful.
His crew gave a good performance as well. They did fittingly titled "On The Road" off their new ever more aptly name album Waiting Our Turn.  The premise of the song is that they aren't trying to steal your girlfriend. They just want to have sex with her after smoking  weed  with her, and  then you can have her back.  They aren't maliscious. The bulk of their material seemed to center around this.
Low-Brow humor, funk and melody was in the air.
Del came on afterwords. He played "Catch a Bad One" fairly early. Which meant I stopped paying attention right afterwords. The crowd seemed to enjoy it. I felt kinda sorry for Del because he was obviously open-minded enough to bring Devin on the road, when he didn't really need another draw to bring people in, and most everyone I talked to was a little too cool to admit they used to listen to Del.
All and all I think the sold-out Skully's crowd had a enjoyable evening though.