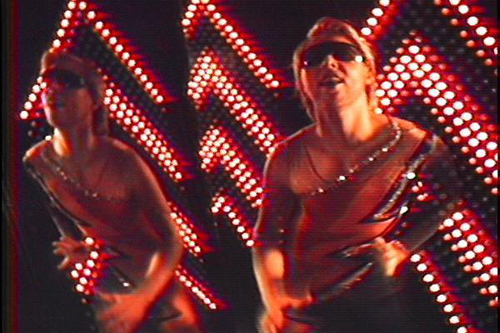 "Finally," not because the Youngstown duo of Gil Mantera and brother Ultimate Donny are sitting on their thumbs and losing their edge (they're sharper than ever), but "finally" because a video document of the band has been warranted since their humble beginnings. Who wouldn't want their first Party Dream experience on tape? How I'd love to own "Bernie's 2002," it'd be an artifact I'd watch over and over. The live show has always been a 3-D package, something that might be lost on a kid who bought Bloodsongs in Nebraska. Here that kid can take the entire show home with him.
Gil Mantera's Party Dream: Live Video Archive (Volume 1) contains two shows that give a nice presentation of the duo's evolution on stage; the first from 2004 at Chicago's Fireside Bowl and the second from 2006 at the Empty Bottle. The later is a tighter, more musically focused performance, with Donny more prone to shredding out a reverb drenched solo than swilling PBR from ass crack. There's a public access quality to the video work with smoke machines, split-screens, slo-mo shots, and soft rock uniforms, an aesthetic captured perfectly in the video for "Elmo's Wish" included in the extras. Here's a current snapshot of the duo concentrating on their mutation of proggy-synth-metal-roller-skate-pop, instead of unruly behavior.
The former show contains a bit more banter and theatrics, not to mention it's surreal locale in a bowling alley. This scruffier, shorter version of the Party Dream is the quick fix, the portion of the DVD you'll likely play loud and drunk.
Both shows are essential viewing, as are the videos. Especially the one for "Chalklit Pyhe II."