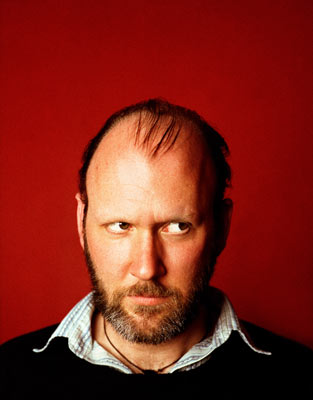 I'm going to make this brief. You should know who Eric Bachmann (former Archers of Loaf frontman and the guy currently behind Crooked Fingers) is. You don't need me to blab about all the great work he's done, particularly the four CF records, and besides I'm late in posting this feature. I will say that right now he's on tour promoting last year's equally impressive To the Races (Saddle Creek), which is the first proper album he's done under his own name. (He released a movie score for Ball of Wax under his birth name in 2002.) The album was written while he was living in a van in Seattle, and recorded in the middle of winter at a deserted motel on North Carolina's Outer Banks. So anyway, I talked to him on the phone last week, and he'll be at Andyman's Treehouse tonight, with local Eric Metronome opening.
I hear you're hocking Cuban sandwiches in Denver.
Not anymore. I was last summer. I had a little sandwich stand and it was good, but I'm touring now.
So no one's running it for you?
No, I couldn't find anyone to make the bread. I was making my own bread and I didn't know anyone that could do it.
So there was a dearth of Cuban sandwiches in Denver?
There were none that were that good. I know how to make them because I spent sometime growing up in Florida. It was always something I wanted to do, and something to get my head out of the music business shell. I'm really glad that I did it, but I don't think I would do a cart again; I'd do a storefront. There's so many laws for vending carts and they don't make it easy to make money.
Are you into cooking in general or is it just sandwiches that are your forte?
No, I like to cook. I'm not the best cook in the world, but I like to do it.
It's been more than a year since To the Races came out. So are you still promoting that record with this tour or are you trying out new material?
I'm just supporting that record, but I should be trying new material because I'm recording soon in the winter. But I'm not playing any of those songs as they're not finished yet. I should be playing them because it's good way to learn what's right and wrong, playing them in front of people. I just haven't had time to do that. I also want the record to be a more of band thing so I didn't want to come up with sparse arrangements.
Is the next one going to be a Crooked Fingers record?
I'm pretty sure it's going to be a Crooked Fingers record, but don't hold me to that.
Are you touring by yourself or with a couple people?
There's a woman named Elan Palmer, who's playing violin and singing and playing a little drums. So it's just the two of us.
Have you found it preferable touring with less people?
It's just a different animal. I like to do them both. I like doing it with the bigger band, and like doing it by myself or with just one or two people. It's important to mix it up constantly so you don't get bored.
I've read elsewhere that this record was a way for you to shake things up. Do feel a need to keep from repeating yourself and does it take something as concrete as doing a record by yourself to keep from repeating yourself?
No. Obviously that's true that I want to keep from repeating myself—and I think it's true that most people want to keep from repeating themselves—but the record wasn't done with that intention in mind. It just kind of fell out. Due to the situation I was living in, it just happened. At some subconscious level, I might have been like, "Well, I haven't done that yet," but it really just kind of happened.
So you weren't intentionally isolating yourself?
Not really. Once I realized I was kind of isolated, I thought that I might as well make the best of it and not be all gloomy about it. It turned out well.
I think it's kind of interesting that you recorded in the resort area of the Outer Banks.
Well, I was there the week after Christmas so there was nobody there. I had a friend whose sister owned this hotel and they were closed, but she let me stay there. It was quite quiet. The hardest thing about recording was that you could hear the waves and the wind. I had to time things between the weather.
Given the record's sparse settings, do you feel you would have been confident enough to do something like this previously?
That's a good question. Obviously, if I felt confident or compelled before I would have done it. I haven't thought of it that way, but now that you say it, maybe I wouldn't have had the confidence before to do it. It's harder to make that kind of record than a denser record because it's all about the performance and your playing. Everything is so exposed that you can't hide. And it's hard to listen to yourself do it because you're so critical of yourself.
Does it feel more personal?
Not necessarily, but that could change. It's always changing which of the records I've done that I like better. So right now, because I've been touring and playing these songs, it's my least favorite. (laughs)
Dignity and Shame seemed like you were writing from different personas. Do you tend to write that way more frequently or from your own perspective?
More frequently I write from my own perspective, but you're right about Dignity and Shame. I was trying to get out of the corner that, in my mind, I had boxed myself into. I wanted to make a record a lot different than the others. I wanted it to be bright so in order to do that, I wrote from a place that wasn't me. It was probably the least experimental record we've done, but yet it the most experimental for me to do. Just in terms of how I've written and how I've made records, it was the opposite of what I've done in the past. A lot of people hated that record, and to me that meant that I was successful in breaking out of what a Crooked Fingers record should be.
Do you view the task of making music differently than, say, when you were with Archers of Loaf?
Probably. This is more enjoyable for me. I don't why. It just wasn't as fun, perhaps.
Is it more relaxed?
No, it's not more relaxed, but I'm not afraid to dedicate all my time to it as opposed to back then when I was trying to be cool or something. Then it was trying to fit into a club, and now I just make the music I want to make.
You mentioned the new record. What direction do you see that going in?
If I can pull it off, lots of saxophones and strings and things and more drums. I'm not sure, though, as I haven't started recording it yet.
Same line-up of Crooked Fingers?
No. As much as like Barton and those guys, it's a matter of logistics. I live in Denver now so I'll find people in Denver to play with.
Given that it seems that practically every band from the '90s has reunited, is there any possibility of Archers of Loaf reuniting?
I doubt it. We still get along, but I'm not compelled that way. Maybe if no one cared about Crooked Fingers then I'd want to go live in my past, but I want to keep moving forward. But if there was $10 million, then sure I'd go do that, to be honest. I hate to be that way, but for something like that I might do it. I'm not going to lie about that. I wouldn't be miserable doing that, but I'm so into what I'm doing now that something like that would just be a distraction to me. So if I'm going to be distracted, I'd need to get paid for it.