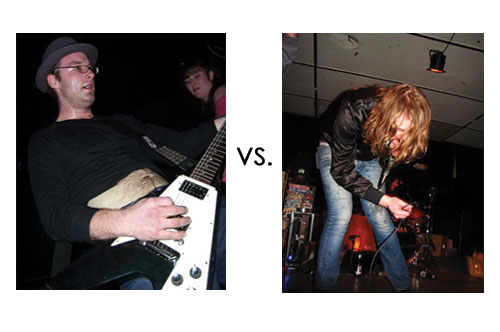 Tonight at Carabar, Clockcleaner will enter the ring to battle the Unholy 2 in what will be know as Scumrockmania II. Two weeks ago, Pissed Jeans were defeated in Scumrockmania I at Cafe Bourbon St., holding truth to rumors that they are the "Poor Man's Unholy 2", according to the XUN2X's leader Christopher Lasch.
Philadelphia's Clockcleaner pose a more formidable challenge, though, as they finish up a nation-wide tour for their Load Records debut, Babylon Rules. The album is one of 2007's finest examples of how truly sick the human mind can be. The trio dish-up some of the crummiest slop since Reagan's reign and continue to shove it down America's collective throat.
MP3: Clockcleaner "Vomiting Mirrors"
Meanwhile, the Unholy 2 have been training on antique Nautilus equipment, preparing for any foe who dares go to war with them. They've recorded enough for a duo of singles, but plan on releasing nothing until the Federal Reserve is eliminated.
Also on this FREE bill are one of Columbus' most underappreciated groups, Vegetative State.