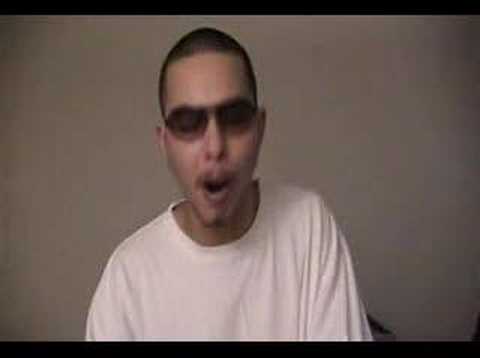 the Catalyst using various movie titles to let you know he will merk you.
The Catalyst will be performing tonight at So What Wednesdays, which will be celebrating its 1 Year Anniversday tonight. J-rawls  and Lo-Zone will be guest dejays alongside resident DJ Detox.  Blueprint will host.
Even though Bo(the Catalyst) spits that fire. The night has been about dejays from day 1.
MP3:So What Wednesdays Podcast w/DJ Detox & Pos 2
In about September last year Bourbon Street's  Adam Fleischer hit me up, and asked me if I wanted to take over Wednesday Night's there. Now, I dick around and play records. I can make people dance. I can make people show-up. But I am not a dejay.
This was shortly after Daymon Dodson passed.
I don't know if y'all recall Blueprint saying this on the front of Donewaiting, about Daymon "He wasn't even technically a dj, but rode for all the hip-hop djs in the scene and even formed dj crews and help dudes get nights so they could make money."
Well that was the truth.
Dame rolled dumb hard for Pos 2, Detox, and True Skills. Those doods are amazing dejays but they really aren't really into self-promotion and networking. So Daymon would be out there hooking them up. Well it didn't feel right for me to be out there taking up space, when the dejays had lost their champion.
So I turned down the night, I had sworn off playing records because I just felt wrong. So I asked Adam if he would talk to Blueprint about putting together a Hip Hop Night with some of the dejays Daymon rode for. We all knew it was right. Blueprint has been screaming about the importance of the tradition that made Columbus Hip Hop so respected on the national radar to have a home since the Fonosluts stopped doing Bernies.
And Print knew what Daymon's importance to the DJ's in the Hip Hop community.
So Adam and Print met. Detox and Pos were with it. Pos named it So What Wednesdays. So What was the name Dame hosted Bernies Hip Hop Night under for 6 years, where Pos, Przm, and Lo held Columbus Hip Hop down.
Mike Carney printed up these flyers, and it was on.
Blueprint has used his connections to set-up perfomances by National acts like One Be-Lo, Glue, Hangar 18, DJ Abilities, Top Speed and J-Sands, Weightless acts Envelope, and Zerostar, as well has opened up stage time for local groups like the  Bootleggers, Bottom Brick , and the Intricate Suns  at So What Wednesdays.
And the dejays have used their talent to keep crowds coming in every week. Which is difficult when you have 20 people that just want to hear Group Home, and Mobb Deep, and another 20 that want to hear Lil Wayne,Bmore Club and Dipset. Then you have another group that just want to hear High School Dance Music, like Naughty By Nature's O.P.P. 
So all and all. Print, Pos, and Detox have worked really hard this year to keep some fascimile of Hip Hop going on a weekly basis, and are celebrating tonight.