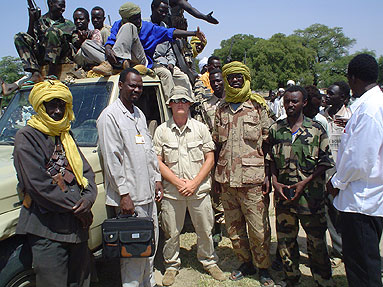 In the U.S., the majority of the major media discussion revolving around the crisis in Darfur had to do with whether or not anyone in the Bush administration would use the G-word when discussing it, and if and when they would step in and curb the genocide there, or if the wars in Iraq and Afghanistan would keep us out of intervention.
It also occurred during President Bush's first term which, at this point, was years ago.
As has increasingly become the case, documentary filmmakers have taken it upon themselves to talk about what the TV and print media can't or won't, and co-directors Annie Sundberg and Ricki Stern (whose previous collaboration was The Trials of Darryl Hunt, about a wrongly convicted man), have found themselves about as perfect as a protagonist as one could hope for in their Darfur documentary, The Devil Came on Horseback.
He's Brian Steidle, a handsome young Marine from a military family—not exactly the left-wing activist type. After completing his years in the Marines, the branch he chose because he wanted a challenge, he was looking at years of desk duty if he became a career officer, until he found a job posting on the Internet for "Patrol Leader Sudan."
Armed only with "a camera, a pen and a paper," he traveled the Darfur region of Sudan as a cease-fire observer for the African Union, and began to witness the systemic slaughter of black Christians and animists there by the Arabic government-sponsored killers called Janjaweed, which translates to "devil on a horse."
Steidle spends six months there, taking pictures of the aftermath of the atrocities and interviewing victims and perpetrators alike, becoming increasingly frustrated by his inability to intervene. He talks about interviewing a Janjaweed leader and thinking to himself if he only had a knife he could end it, and, when describing snapping pictures of a truck load of killers from a helicopter, he says he thought, "We could end this if we were just given the mandate, and I was looking through a scope instead of a camera."
Sundberg and Stern present the early, African portions of the film in a kinetic, clipped style, with lots of shots taken form inside speeding vehicles, scored to propulsive, drum-laden action movie-like music. It's an urgent style, but the film gets very sober very fast, as we see scores of Steidle's photos of bodies, and hear one terrible story after another.
When he returns to the states, he is no longer in any sort of physical danger, but the battle becomes in many ways even more pitched and the film more dramatic, as a great deal rides on whether or not anyone in the U.S. will call it "genocide," because once they acknowledge that, they're legally obligated to act. By mid-2004, then Secretary of State Colin Powell, the president and congress are all calling it genocide, but no troops are committed (In an irony that might be funny if it weren't so tragic, the U.S. goes into Iraq practically alone to start a war, but won't go into Sudan alone to stop one).
After struggling with the military culture's ingrained sense of not speaking out of turn, Steidle begins to work in the U.S. to show his pictures and share his story, eventually working the media circuit, meeting briefly with Secretary of State Condoleeza Rice and at greater length with one of her deputies, and discovering the cruel nature of the media cycle, in which an African genocide is big news…until another story replaces it completely.
In an early email home to his sister, he told her that if the people in the U.S. could only see his photos, "there would be troops here in a matter of days."
Once the people in U.S. had seen them, or at least, everyone in the U.S. from Rice on down to New York Times subscribers, and nothing happened, you can literally see Steidle becoming disillusioned right before your eyes. Watching his faith in his country and its leaders crumble in slow motion would make for a heartbreaking story to watch—were it not couched in the hellish horrors of the Darfur region. As is, it's just one more sad story in a film about a tragedy, a tragedy that's most tragic element is the fact that it's ongoing.
As documentaries go, Devil Came on Horseback isn't a call to action as much as a call, slap and push to action. "Watching is nothing," a frustrated Steidle says at point, "It's just watching." He was talking about how guilty he felt being an observer instead of a soldier, of course, but when Sundberg and Stern have repurposed them to apply to those who are watching. As for those not even watching, I guess we're doing less than nothing?
The Devil Came on Horseback screens Tuesday and Wednesday, November 27 and 28, at 7 p.m. at the Wexner Center's film/video theater. For more info, click to wexarts.org