15. Maximo Park – Our Earthly Pleasures (Warp)


The best of the Brits.
Video: "Books From Boxes"


14. No Age – Weirdo Rippers (Fat Cat)


I recently re-discovered this album in the band's intended format — split into 5 equally intriguing vinyl chunks. Psych-infused metaphysical skate punk. My review in June.
Live: "Everybody's Down"


13. Besnard Lakes – …Are the Dark Horse (Jagjaguwar)


Fits, fuzzes, and floats between Fleetwood Mac and Floyd. This Canadian husband and wife like staying up late carving endless canyons of heavy guitar sagas that echo from a bygone era — namely 70's rock radio. Recommended on vinyl only.
Video: "For Agent 13"


12. Bonde do Role – With Lasers (Domino)

Sure half the entertainment is the zany, hyper live show but With Lasers is also a major evolution musically. Not just party jams mocking baile funk — now they've learned how to inject their separate personalities into smart electronic bangers. Anyone with a passing understanding of Portuguese and Afrika Bambaattaa should be changed by this.
Video: "Solta o Frango"


11. Marmoset – Florist Fired (Jagjaguwar)


Lazy Sunday Rainy Record. Naptown cult-hermits return like zombie Beatles.
MP3: "Missing Man"


10. Psychedelic Horseshit – Magic Flowers Droned (Siltbreeze)

Should be required listening by now. My review in October.
Live: Chaos last weekend in NYC


9. Gui Boratto – Chromophobia (Kompakt)

The title suggests that this Brazilian composer has a fear of color — within these cold and calculated structures that may be true — but Boratto reveals human error, a human hand that allows cracks through which vibrancy flows. Of all the brilliant minimalist releases this year, Chromophobia sounds the most organic, a prism through which all forms of melody are welcome even when traditionally shunned.
Video: "Shebangs"


8. Liars – Liars (Mute)

Fitting that a band that was becoming too art-rock for their own good (i.e. letting Berlin get the best of them) would surprise the world by removing art from the equation. Still this record is as dark and engaging as the band's most puzzling work, just twice as catchy and twice as heavy.
Video: "Plaster Casts of Everything"


7. Skeletons and the King of All Cities – Lucas (Ghostly International)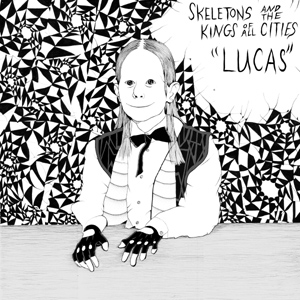 Perhaps I need to take a few months off to research Sun Ra? Here's my review from April.
Video: "What They Said"


6. Radiohead – In Rainbows (ATO)

In Rainbows came late one night, for free (but that's beside the point) and without warning. I'm pretty sure that the band knew they had a monster on their hands or else it all wouldn't have happened this way, it ebbs and flows with the finest releases of this year.
Live: "Jigsaw Falling Into Place"


5. Times New Viking – Present the Paisley Reich (Siltbreeze)


I pledge allegiance. Jump aboard the Shitpop Revolution before it's too late.
Live: "Thing With a Hook"


4. Justice – † (Ed Banger)


Hard to find a party starter as solid as Justice (but we'll get to that). The only reason this doesn't eclipse Mr. James Murphy's LCD is experience. While the debut by the Ed Banger Illuminati is exhilarating and above all else a fun trip, it lacks in songwriting. As a ephemeral piece of 2007 though nothing will top it.
Video: "Dance"


3. LCD Soundsytem – Sound of Silver (DFA/EMI)
Here James Murphy has concentrated all forms of electronica, dance, disco and standard rock, into one overwhelming force. Try and not move, shake your head, or mouth his easy to comprehend/understand lyrics. In LCD land every night is a party at the center of Manhattan, whether you want it or not.
Video: "All My Friends"


2. M.I.A. – Kala (XL/Interscope)

This one's kinda like Psychedelic Horseshit in that there's not much more that I can say. I've tried many times to describe what I feel whilst listening to Kala but nothing comes close. A colleague of mine called it "omni-pop" and that's really the closest conclusion I can come to.
Video:: "Bird Flu"


1. Panda Bear – Person Pitch (Paw Tracks)

Glorious existential bliss. Person Pitch could be looped for days and I would never tire of Noah's endless harmonizing, endless waves of melody, and endless summer inside the machine. The hallmark of a timeless album. A new wave hippie that has persevered.
Video: "Comfy in Nautica"
Bonus: You can find an unabridged version of my top ten here.