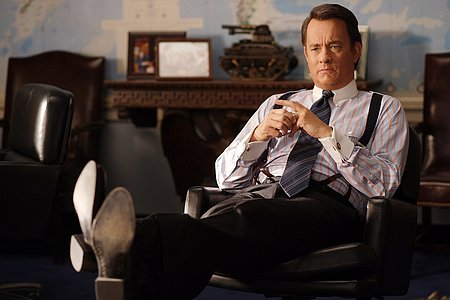 When we first meet Texas congressman Charlie Wilson, he's naked in a Las Vegas hot tub full of coke-sniffing strippers and Playmates. But when he sees Dan Rather in a turban reporting from Afghanistan, he perks up and asks the bartender to turn up the TV.
That's Wilson in a nutshell, a whiskey guzzling, tail-chasing believer in the good life, who just so happens to be extremely interested in the hottest front of the Cold War in the early '80s, Afghanistan, which the Soviet Union has just invaded (The Afghan people are, he notes, "the only people actually shooting at the Russians.")
The two seemingly conflicting sides of the character amount to two character traits, and that's about the extent to which director Mike Nichols, screenwriter Aaron Sorkin (working from the late George Crile's non-fiction book of the same name), and Tom Hanks flesh Wilson out. Hanks' co-stars similarly get two traits a piece.
Philip Seymour Hoffman (under tinted glasses, a moustache and funny hair) plays a CIA agent, who's gruff and inelegant but earnest. A blonde Julia Roberts's Texas fundraiser/activist is an ultra-right wing holy roller who shares Wilson's love of a good time.
In a completely fictive movie, the characters might seem a little thin, but considering this is a true story—or at least "based on a true story"—then Nichols and company get a bit of a pass, as the truth can't always be held to the same dramatic standards as feature film might (Particularly from me; I imagine a large swathe of the audience of this movie will remember some of these events as they were occurring, but I'm afraid my only interest in geopolitics in the early '80s was whether that ruthless terrorist organization determined to rule the world Cobra would ever defeat America's daring highly-trained special mission force G.I. Joe).
It certainly helps how well Hanks—flexing his too often neglected comedic muscles—finds the country-fried charm in his character. His Wilson is in the right place and the right time, and possessing the right inclination, to get funding to the Afghans willing to fight the Russians. Roberts' wealthy socialite identifies his keystone nature and seeks to exploit it, and they find a kindred spirit in Hoffman's angry man agent.
Nichols spends most of his allotted time focusing on their initial battles to win funding to get weapons into the hands of their allies, and to do so in such a way that the U.S. will continue to be able to deny they're helping shoot down Russian helicopters. From there, the film sort of montages through seven or eight years, spending more time on events than the people driving them.
But they are certainly exciting events, and it's rather refreshing to return to the more black and white, Cold War hero/villain film paradigm, in which the Russians are the unequivocal bad guys. They just make for a much easier enemy to root against than the nebulous, country-less terrorists that play America's enemies in most movies these days, you know?
Sorkin and Nichols frame Wilson as an ultimate American hero—a man of many character flaws but also admirable courage and noble virtue who manages to do great things. There are fist-pumping victories in the film to be sure, but Nichols keeps it far from feel-good territory, as both Hanks' and Hoffman's characters seem cognizant of where things can go from there, and their victory is presented as an unpredictable domino. The Russian defeat in Afghanistan went a way towards winning the Cold War, sure. But did it also lead to the takeover of the country by the Taliban? To 9/11? To the Iraq War?
As the quote coda from the real Wilson points out, the story is essentially one of a great victory with an element of tragedy. In other words, it's a typically American story, for better and for worse, and the film is a clear-eyed presentation of it.