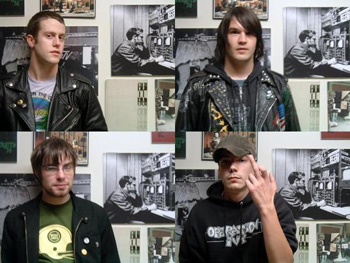 The recent resurrection of the once indispensable Datapanik Records seemed a tad unnecessary given our current equivalents. The somewhat stale sounds of the Secret Admirers re-launch added salt to the wound. Fortunately the label's new guide into the 21st century, Nick Schuld (founder of the Rackets/part-time drummer for just about every band in Columbus that's mattered in the last 15 years), stumbled upon the Flukes while running sound at the High-Five one random night. The result is the release of Nocturnal Emissions, an album that's either a welcomed local debut or a final shedding of the nine-year-old band's teenage kicks. See, the Medina quartet is changing names (they're soon to be the Guile) once this final tour is in the can.
In an odd twist of fate, Nocturnal Emissions fits right in with the Datapanik catalogue of old. It would have been a crime for Schuld not to share it. The record's constant velocity might warrant some mall-punk comparisons, further listens though reveal the band's charming ramshackle dynamic and gifted hooks. Laced with sugary melodies and amphetamine solos, "Nightwatch" falls somewhere in the pantheon of power pop, right between the Exploding Hearts punk bubblegum and Superdrag's soaring exuberance. "Shooting Blanks" and "Neat Lightning" are equally concentrated head rushes likely to induce air drumming and frequent humming. Nocturnal Emissions is surprisingly not by the book – there's plenty of snotty doo-wop, lovesick harmonies, and Midwestern casio-tones (plus some strange, oft-repeated, Oldfield-esque electronic theme music) to break any monotony.
The Flukes will be releasing Nocturnal Emissions at the Carabar on Tuesday night, with promises of free limited edition copies for everyone in attendance. The Rackets and Nick Tolford and Company are opening.