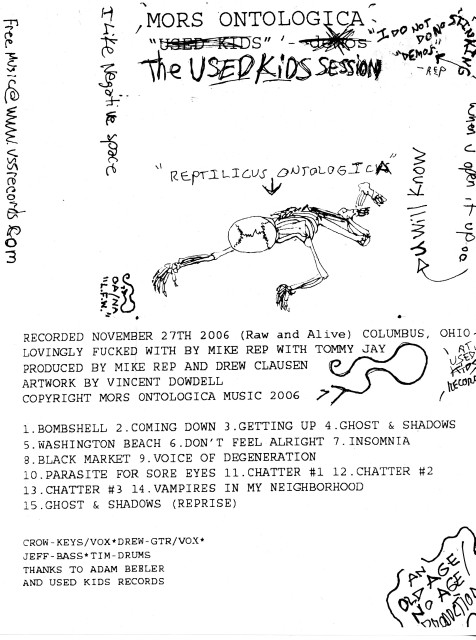 MP3: Washington Beach
MP3: Bombshell
MP3: Ghost and Shadows
Columbus' Mors Ontologica has been bangin' around ye olde Washington Beach for some years now, issuing forth raucous live shows and releasing fine albums. Back on November 27th, 2006, the foursome holed up in Used Kids Records and recorded an album "raw and alive," with the results soon to be "lovingly fucked with" by Columbus rock veterans Mike Rep and Tommy Jay. After months of making the rounds via burned CDs and whispered rumors, what became The Used Kids Session is now in physical (read: beautiful vinyl) form.
This collection of muddy rock 'n roll seems to have been flavored by the nature of the recording session. There is a perceptible haze hanging over these songs, which surprisingly does nothing to temper the various moods and tempos therein. The band swings back and forth from fiery thunder to smoky passion under the able guidance of drummer Tim O'Dell and bassist Jeff Wiseman. The difference in styles of the two singers/songwriters aids these mood swings, as Drew Clausen leads the charge on uptight bursts like "Washington Beach" and "Black Market" and Crow Antifonario emotes all over ballads and laments like "Don't Feel Alright" and "Voice of Degeneration." The album feels well-assembled, as Drew's wailing "Bombshell" kicks things off and Crow's crooning and peppy keyboard on "Ghost & Shadows" (Reprise) make for a fitting finale. While Dead And/Or Famous was a bit more sprawling and grandiose (well, relatively speaking), UKS feels more focused and cohesive. Though the potential sloppiness of a one-night recording session shows here and there, the urgency of the affair contributes to the immediacy of the tunes.
The limited-edition vinyl release of The Used Kids Session (while available for a while now) is being officially celebrated this Friday at the Ravari Room. The lineup includes an opening set by Mike Rep and the Quotas, followed by two sets of Mors. The band will play UKS in its entirety and will then play a set of new material. Though the vinyl is the way to go here, you can get ready for the show by downloading the whole album here! Blam!