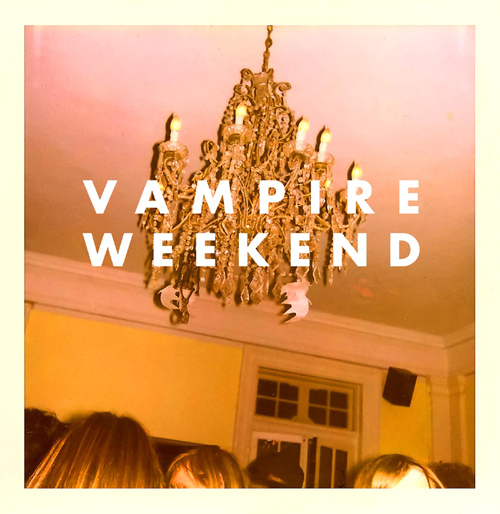 I'll take wisdom from David Byre at any time. His glowing endorsement and the buzzy blog bits about a 4-song blue CDR by Williamsburg's Vampire Weekend was a compelling subplot in last year's indie rock universe. Their ascent almost mimicked the Strokes meteoric rise, nonchalantly stinking of privilege, with talking points that highlight the bands' worldliness and educations — only that first EP tossed off by Vampire Weekend was The Modern Age recorded on a sailboat, filled with trinkets and baubles found on exotic travel, progressive and hopeful instead of grubby and indifferent. The gifted kids hit an ephemeral pocket of ecstatic pop bliss.
Their self-titled debut doesn't add much, but what it does add shows the band is without gimmick. Ezra Koenig's love of African guitar motifs and polyrhythms is far from waspy musical colonialism. He may have studied a myriad of ethno-musics at Columbia, but it never sounds like he's stealing or even dependent on global blueprints. It's telling Koenig is a huge fan of hip-hop, while the Paul Simon (and consequently Talking Heads) comparisons are granted, here, in widescreen, placed upon sparkling yet sterile backdrop, his organic pastiche of sound is engaging, refreshing, and constructed from many sources to build something completely new.
Sonically this record is even cleaner than their demo — the antithesis to 2008's other important record (so far) Rip it Off — and on addition "M79" they add Victorian waltz through strings and harpsichord, their nerd-punk now gilded in regal sweeps. The same goes for "I Stand Corrected," more in line with the halcyon lite-psych of the Zombies than their modern counterparts (Shins, Spoon, the National). Through good vibrations and breezy minimalism Vampire Weekend take chances those aforementioned bands never dare to touch, it's an effortless combination of preppie formalism and cultural adventure that hopefully continues to flourish.