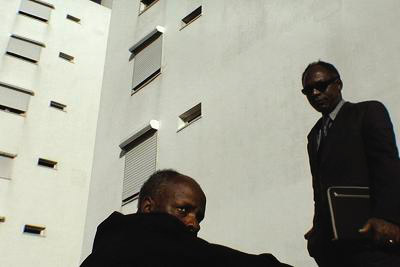 One of the most dramatic screenings at the Cannes film festival in 2006 was the new work by Portuguese director Pedro Costa (At least, that's what I've read; I wasn't there myself).
Reportedly, more than a few critics and audience members walked out, and weren't shy about grumbling as they did. The film, Colossal Youth (Or Juventude em Marcha, "Youth on the March," in its original Portuguese title), apparently divided the festival judges in addition to those at the screening.
And it's not terribly hard to see why.
The two-and-a-half hour film is set in the claustrophobic kitchens and bedrooms of an apartment complex in the Lisbon slum of Fontainhas, home to many immigrants who came to Portugal from Cape Verde in Africa. It follows Ventura, a retired worker, as he visits a series of people, repeating the story of how his wife just left him, destroyed or stole all his possessions and stabbed him. Most of these might be his children—he seems to think some of them are, and some of them call him Papa.

Like several of Costa's previous films, Colossal Youth lies somewhere between documentary and fiction, and doesn't declare itself as either. It's not a tidy story, dealing more in mood and emotion than a sequence of events, as Costa films Ventura and the others as they talk, play cards, drink, eat, watch television and generally kill time. Most of the shots are long, minutes upon minutes passing without a cut. And more than a few times these shots are of Ventura or another character just standing or sitting there for a while.
It's a very leisurely sort of film, and its not hard to see how its sense of mystery could wreak havoc on a festival audience, as one's expectations will likely have a lot to do with how much one gets out of it.
The angry noise at Cannes had quite a benefit, however—it brought attention to Costa and his work, which has previously been little seen, particularly on this side of the Atlantic, and his fans have numbered mostly among the most hardcore of cineastes.
The Wexner Center is poised to introduce both Costa's filmography and Costa himself this month, as they kick off a month long series devoted to Costa.
It begins tonight with a double feature consisting of Costa's first film, 1989's O Sangue (The Blood) and his 1997 film, Ossos. The former is a beautiful, mysterious and rather romantic story about two brothers trying to remain a family after their father dies, despite pressures from some criminal types, an interfering uncle and a beautiful young woman who seems to love them both in different ways. The latter is the first of Costa's so called "Las Fontainhas Trilogy," which culminated in Colossal Youth. It follows two poor young parents who use their baby as a begging prop, and introduces us to Vanda Duarte, who would appear in the rest of the trilogy.
Tomorrow night, Friday, February 28, Pedro Costa himself will be at the Wex to introduce Colossal Youth in person.
On Friday, February 15, the middle chapter of the Fontainhas Trilogy, In Vanda's Room, will be screened; it deals with Vanda and her sister playing themselves as crack-addicted sisters holed up in a shantytown that is being demolished around him.
On February 21 Casa de Lava, a film heavily inspired by classic horror flick I Walked with a Zombie, screens with a pair of short films.
The series wraps up on February 28 with Where Does Your Hidden Smile Lie?, a sorta of documentary about Jean-Marie Straub and Daniele Huillet—huge influences on Costa himself—as they battle over the reediting of their 1999 film Sicilia!. That will screen with 6 Bagatelas, a short collection of unused scenes from the film.
Still Lives: The Films of Pedro Costa begins tonight, Thursday, February 7, with O Sangue at 7 p.m. in the Wexner Center's film/video theater. For more info, click to wexarts.org.