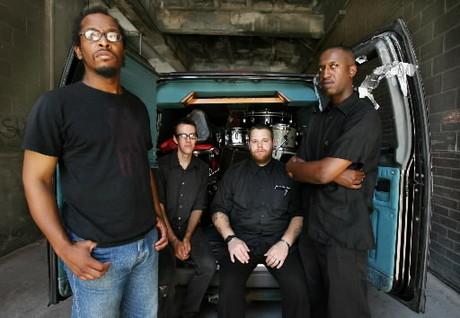 photo courtesy Scott Shaw/Cleveland Plain Dealer
This Moment in Black History are to Cleveland what an institution like Used Kids is to Columbus: the glue that holds a scene together and a no-nonsense monument to what is great about the city. Or better yet, TMiBH are to Cleveland what Leon Black is to Larry David on season six of Curb Your Enthusiasm: a watchdog to help keep things real, willing to both "get in that ass" and "bring the ruckus to the ladies". At least they're what I think of when I look back on the last ten years of Cleveland rock. From Bim Thomas' pummeling drum lessons to Chris Kulcsar's high-energy, cheap beer antics, This Moment bring it home both live and on record. Their latest LP, It Takes a Nation of Assholes to Hold Us Back, has been overlooked by far too many, at least in my circle of friends. Let's not let that happen anymore people.
This Moment in Black History are playing one of the two Donewaiting.com 5 Year Anniversary Shows. They'll be at the Friday show at Carabar with Deathly Fighter, Grave Blankets, and Sinkane. For more details, click here.