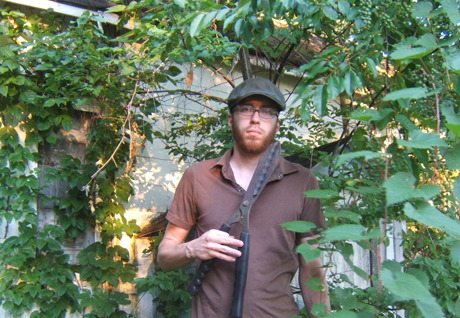 MP3: Version Belize
Musician Mike Shiflet is also the brains behind GMBY Records, an experimental/noise label based out of Columbus OH. After spending an extended period of time in Japan with his lady, Mike returned to the Buckeye state last summer and is slowly integrating back into American culture.
For his performance at the anniversary show on Saturday, he's put together a really interesting band:
Joe Panzner (Scenic Railroads)
Kate Folmar (The Black Canary)
Jerry Dannemiller (Moviola)
Shane McKenzie (Lambsbread)
I sent Mike over some questions so you could get to know him better.
You've been releasing records for over ten years via your label, GMBY Records. How would you sum up the body of work?
Mike: The albums themselves were all over the place, but the artists who worked with the label were all pretty much on the same page personally. Some were internationally known in the experimental music world, some were just friends who no one had heard of, but the quality of their work was always high. The average music fan might not be able to tell the difference between a well-executed and a sloppy noise album – nor ever want to – but I'm really proud of the quality control over the years.
Recommended highlights from the catalog?
I've always loved the "Last Kiss Amatuer Frequencies" 7″ by Ashtray Navigations (British Siltbreeze artist from back in the day) and "Columbus, Ohio" by Kapotte Muziek, which was recorded at a festival I curated at the BLD in 2002. On a more local/regional level, the CDR "Sarira" by Bowling Green native Jason Zeh offers blissed out tape manipulation. These are all sold out but are most likely on your file-sharing network of choice.
What are some of the best/worst/strangest adjectives people have used to describe your music?
My favorite is a running faux-insult "broken radiator," by Spencer Yeh of Burning Star Core. He recently upgraded it to "two broken radiators" which was oddly endearing. Besides that, there aren't any good ones that come to mind.
Your last solo record was released on Thurston Moore's Ecstatic Peace label. How'd that come about?
He'd been buying things from my label for a couple years was interested in working with both myself and the 16 Bitch Pile-Up. The girls and I had been talking for some time about doing a split LP, so when we finally got around to it we just approached him and asked if that was an idea he'd be into. Everything just kind of fell into place.
Tell me a little about the band you've assembled for Saturday's show and what people should (or shouldn't) expect.
I pulled a few people from local bands who had an understanding of what I do and were sympathetic to experimental music. The idea is to take something that is usually a rather messy electronic affair and translate it into something more musical and approachable. It could come across like Rachel's covering Sword Heaven, maybe "avant-twee." It should be a nice transition from Friday night's raucous affair to the sets lined up afterward.
Mike Shiflet and Band will be performing with Miranda Sound, Brainbow and Blueprint, and El Jesus de Magico Saturday at Skullys. Click here for complete details.