Some thoughts on the two record breaking events we had this weekend to celebrate the 5 year.
Saturday
MIKE SHIFLET – really interesting stuff. loved the band. he mentioned in our interview with him that he's hoping to do more shows with a band and i hope he follows up. it's the making of something really cool.
MIRANDA SOUND – love the new stuff. i like when they play it a little heavier, something they don't always do…. i think it adds a great extra layer to their music.
EL JESUS DE MAGICO – four years ago if you would have told me that i would have El Jesus play my 5 year party I would have laughed in your face. Things change, and I'm really happy that they did. Set was fucking FIERCE. can't wait to hear their new album.
BRAINBOW/BLUEPRINT – I had intentionally stayed away from the rehersals because I wanted to experience the show for the first time with the crowd. And put it quite simply, I was stunned. Look, I love music, but this was seriously mind blowing. I felt something that I haven't felt in a long time.
Instead of Brainbow trying to recreate the music of Blueprint, they approached it from their own point of view. It was Blueprint. It was Brainbow. Neither band sacrificed their integrity or created some sort of Frankenstein rock/rap thing that was only a novelty. I say this with all seriousness, it was epic! When Print said it was their last song, I was heartbroken! I could have used 5 more songs. I didn't want it to end, and that's a sign of a good set. Leave us wanting more….
I know it took a lot of time for Print and Brainbow to practice for this event, and I am really thankful that they did. It means so much that they took on this experiment for the 5 year anniversary of the site, and I can't show my appreciation enough.
PS: Bob Ray Starker and Leslie Jankowski (from Church of the Red Museum) added a horn section in two of the songs. What a nice touch! Oh man. So good.
We did bill this as a one time only thing, and I hope they consider maybe doing it again in the future. Or maybe not. Maybe in this internet age when everything is recorded, Youtubed, and distributed to the world, it's nice to have a "YOU HAD TO BE THERE" thing. I'd be happy either way.
This was the biggest crowd we've ever had for a single donewaiting.com event. It was great.
Update: Youtubed! This is Brainbow/Blueprint performing "Liberated". Picture quality is dark but it's the music that matters.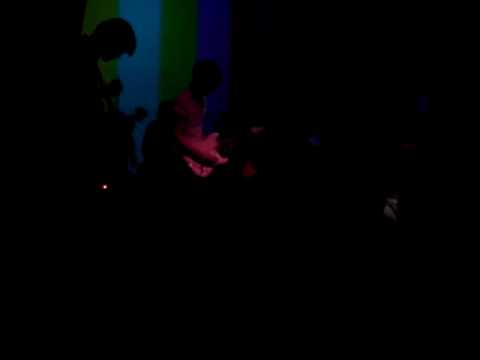 Friday
GRAVE BLANKETS – first time seeing them, won't be my last. Really good sound. The recorded material they've put out there doesn't do them justice…. they are a great live band.
SINKANE – Ahmed has always been one of my favorite musicians in Columbus and it looks like he's finally firmed up his vision of Sinkane. Their set was hypnotic. Really cool. And with a solid indie label putting their album out later this year, things are gonna explode! Can't wait! AHMED I WANT A PICTURE DISC RECORD.
THIS MOMENT IN BLACK HISTORY – haven't seen them since they opened up for YEah Yeah Yeahs in Cleveland a few years back. Good set, liked the energy. First mosh pit ever at a donewaiting event.
DEATHLY FIGHTER – I am a believer.