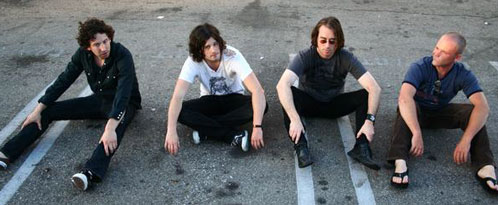 MP3: Vampire Girls
MP3: Lay Back
MP3: Time Will Tell
How many times have you performed at SXSW?
This will be The Naked's first time to SXSW. But I came in 2005 as part of The Drugstore Cowgirls.
If you've performed at SXSW, what's your best memory of the festival?
What festival? No, but seriously, how many parties with free booze, food, and great music can you fit into one city in a week? It's like a kid in a candy shop for rock bands and, oh yeah, you make more connections than you would ever think possible.

Share one thing that you know about Austin (a fact, bit of trivia, etc.) without using Google for help.
Austin is the capital of the U.S. state of Texas and the seat of Travis County. Situated in Central Texas and part of the American Southwest, it is the fourth-largest city in Texas and the 16th-largest in the United States of America, as well as the 3rd fastest growing large city in the nation from 2000 to 2006 (you didn't say don't use wikipedia for help).
or
Austin is actually one of the most environmentally conscious cities in the U.S. G.W. Bush, it's your state capital? What happened to you?
Shiner Bock or Lonestar?
Hmm, We'll have to do a taste test. I hate choosing between two friends.
Daniel Johnston – Austin legend? Any interest in seeing him perform this year?
You bet.
Distance you'll have to travel to get to Austin:
1400 miles!
Which statement best summarizes the SXSW experience you plan to have in 2008?
Play as many shows as possible
See as many bands as possible
Hook up and party with friends
Play a show or two and get out of town
Play as many shows, see as many bands, Hook up, party with friends and get out of town. So, all of the above!
For those not familiar with your music, what bands have others said you sound like?
We've gotten everything from MC5 to Beck to The Stooges to The Vacation, etc.
Pimp your SXSWshow(s)/websites/whatever:
We're still confirming a few options, but you can definitely find us on March 10th at Room 710 and on March 15th at Trophy's (Whoopsy Magazine Party). Stay tuned to our myspace for more information, more music, and more shows: http://www.myspace.com/thenakedmusic