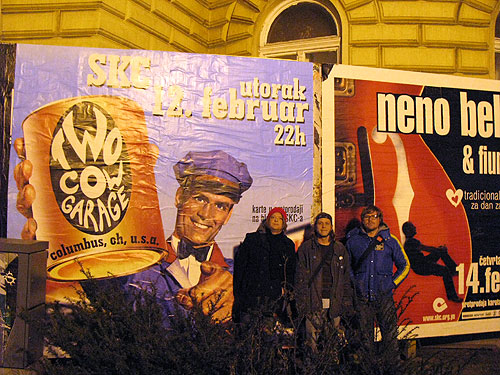 Columbus OH's Two Cow Garage recently came back from their second European tour. I asked them to send a little account of their journey, and here it is, courtesy of Shane Sweeney. Lots of food, broken stages, strip searches, and the tale of The King Of Queens takeover of the entire globe.
Eagles are bald…..
You know that Dr Seuss book that everyone gets when they graduate high school to make them feel like their lives are going to amount to something? It's called "Oh the place's you'll go". I got one. I didn't read it. But I imagine it goes something like this:
Deventer, Hilversum, Alkmaar, Venlo
Flew out of Columbus at 2:30 p.m. on January 22nd and arrived in Amsterdam at 6:45a.m. on the 23rd. Met our tour manager Gijs (pronounced HHys… kinda). The first few days in Holland were a blur of tiredness, drunkenness, Thai foodness and whatever other nesses that I can't think of now. We played two shows a day (instore, show, radio show, show, instore, show) for the first three days, met some wonderful people and got The Best Of Sam Cooke and The Best Of The Faces for free at the instores. Turned Gijs on to the wonders of Mr Show with the C.S. Lewis Jr skit.
Also the instore at Sounds in Venlo was possibly the best we've ever done at one of those. Venlo was the most memorable of the first shows (possibly because I was finally recuperated enough to really enjoy it). The band we played with there was called Guinevere Leaves and they were a good band and great to hang out with. I think Jon Snodgrass was the main topic of conversation. After the show we had pizza at some joint with a group of people having a pre-carnivale weekend. One guy was playing the baritone and making fun of us for being American and then we sang (kind of) On the Sunny Side of the Street together. Weird.
Day Off Amsterdam
We met up with my friend Marc who now lives in Switzerland and flew to Amsterdam to hang out and go to the show the next day. Had a traditional Dutch meal at Gijs' girlfriend Bea's house, where we stayed that night. It was pretty much mashed potatoes with cabbage in it, which was pretty fucking delicious actually. After that we went to the Melo Malo and had some drinks with Jan the Lazyman and watched some shitty band. Spent most of the rest of the night wandering from bar to bar and watching drunken British people oggle prostitutes in the red light district. Ended up having drinks at a really small pub with some broadcaster from Cincinnati. Ohio people are everywhere. Dutch stairs are like climbing Everest. I needed a sherpa to get to the bathroom in that place.
Amsterdam
We slept until 4 in the afternoon and I made the traditional Dutch meal of scrambled eggs for breakfast. Head to the show, with Marc in tow, for soundcheck. We've played at the Paradiso before and it was a show that I was particularly looking forward to. The place is an old church, they have lines leading from the dressing rooms to the stage spinal tap style. After the show we hung out with some folks from Australia and with Sam from Iron and Wine, who was a very soft spoken and extremely nice person. He was also very small. Wandered the streets of Amsterdam trying to find and open Coffee shop and food. Found food, no coffee shop. Australian folks had weed so we didn't really need to go but Marc had yet to be in one so we tried. Drank a bit more at the hotel and crashed.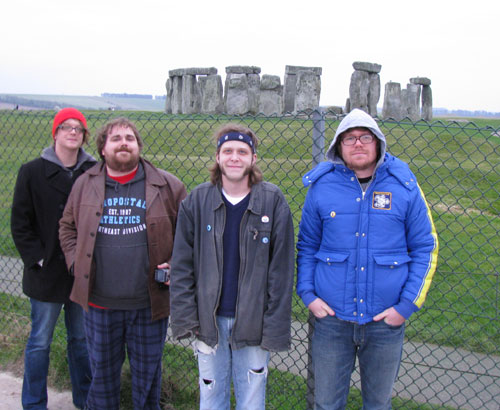 Day Off Exeter and Show Exeter
Woke up way to early in Amsterdam so we could make the tunnel train from Calais under the English Channel. We were loaded, in the van, into a giant train and twenty minutes later we were in the U.K. and driving on the left side of the road. It was surprising how little time it took to get used to that. The countryside was lovely but monotonous and then out of nowhere… fuckin Stonehenge. No signs. In the states there would have been billboards for 200 miles leading you to something like that. When we finally reached the actual park (it's just in the middle of a field surrounded by sheep) it was closed, but even from 100 yards away it was still pretty awe-inspiring.
We headed to Exeter where we stayed in the green room of the club that night. We had plenty of free booze from Holland so Gijs, Cody and I drank tequila and coke and watched the metal bands that were playing. I spent most of the next day smoking cigarettes on the club roof and watching some guy meditate or do some sort of hippie dance for four hours straight. The show was pretty unremarkable. Afterward we drank heavily with the promoter Gareth and talked about the differences between the American and British Offices. The consensus was that they are both equally awesome.
Brighton
We were all pretty happy to get out of Exeter. It was a nice place but we all felt pretty confined to that Green Room. Saw Stonehenge again on the way to Brighton but didn't stop this time. Sean, the promoter of the show, went above and beyond in every aspect. The show was packed. We played really well I think. We did two encores. Andy has had chronic back problems and he re-injured it loading in. We stayed with Sean near the Channel. Stayed up late into the night singing the praises of Centro-matic.
Brixton
Woke up late. Went into Brighton in some gnarly driving rain to get drum heads and a keyboard pedal. I stayed in the van. Everyone else was soaked through. The English Channel that day was the roughest I've ever seen any body of water. Brighton and Brixton are only and hour or so apart so we stopped and had a pizza party on the way. The weather cleared as soon as we were out of Brighton. Brixton is in South London and apparently is pretty ghetto but I couldn't tell. It looked fine to me. Our old friend from South By Southwest Joe showed up and described it as Apache country. I had never heard that term before. There was some trouble getting our beer so we resorted to the bottle of Jack Daniels that we procured from the Paradiso. The show was great fun but Andy's back was getting worse. Cody had a friend in London and she hung out with us as we all snuck into the one room we had at some bed and breakfast.
London
Went to Abbey Road. Andy is a huge Beatles fan and he really wanted to go. It was cold but sunny and I guess it was a good thing to do. Micah and I have no affinity for the Beatles so it was less important to us. Andy was having trouble walking but it meant a lot to him. After that we went to the club and had a nice lunch at some Italian restaurant. Spent the rest of the day emailing family in a café. Its hard to stay in contact from here. The show was pretty much an Anger fuck. We were supposed to play second for an hour but they bumped us to first for ½ an hour. Normally I wouldn't care but for some reason it really pissed me off. Maybe because the band that was playing last were awful at soundcheck. I don't know. We made the most of our half an hour and it ended with Micah and I rolling on the floor and me throwing my bass. Then we spent he rest of the night getting super drunk with a really nice guy named Lil who might re-release III in the U.K. We stayed with a guy named Vincent. He's from Boston but has lived in London for the last twenty years. He and his wife were very kind and welcoming.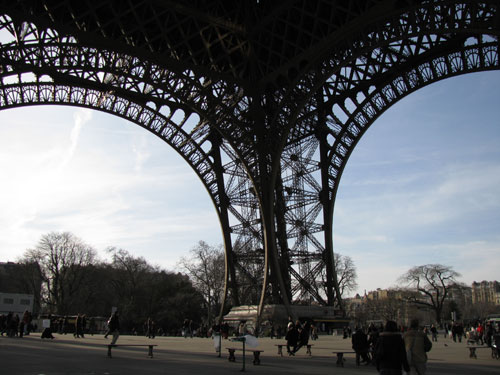 Days Off
1. Spent the first of our two days off in Paris. We arrived in the early evening and Andy's back was in such bad shape that we had to take him to the hospital. There was no sense in all of us going so Gijs and I went with Andy while Cody and Micah hung back at the hotel. I wish there was video of me pushing Andy up the ramp into the emergency room in a wheelchair with a flat tire. Got back to the hotel around 5:30am with Andy full of painkillers.
2. Drove around getting Andy's prescriptions filled then went to do tourist stuff. We never do tourist stuff really so it was kind of nice. Cody, Micah and I were approached by Gypsies underneath the Eiffel Tower. Drove to the Arc De Triumph which was awe inspiring. You really can not get a sense of the enormity of these things until you're face to face with them. Inadvertently drove along the fabled left bank which took forever but was interesting. Paris is a beautiful city. Left Paris and drove to Bordeaux where we spent an uneventful evening watching the uneventful super bowl being commentated in French which I have an elementary grasp of at best.
Gijon
Woke up and drove to Gijon. The south of France was nice. We saw the Atlantic ocean from the right-hand side which was pretty cool. The Pyrenees were beautiful. It was the last night of Carnivale in Gijon (apparently every city has a different ending night). The streets were packed with people dressed in costumes and watching a massive parade. It was like Mardi Gras without the tits. Well, there might have been tits, I just didn't see any. The whole thing was pretty amazing except that we couldn't get to the club because of the parade. Load in and sound check were rushed but the promoter Tono was super cool and welcoming. The show looked like it might be a bummer but then a lot of people showed up right before we played. Tono asked for Saturday Night. It's astounding to me that someone in Spain asked to hear a song that I wrote when I was 21. After the show we went to the hotel and dropped off Micah (drunk) and Andy (back still getting worse) then to a bar where they were showing the Greatest American hero on a wall and we drank for free for the rest of a very long night. Great people, great experience. I hope we go back there.
Madrid
We were pulled over by the Spanish police for no apparent reason but nothing came of it. Madrid seemed okay — we didn't see much of it, or at least I didn't. I spent the day still drunk from the night before so it was a long one. The show was sparsely attended but the people there were really into it. After the show had a sit down with Andy and decided that it was best for him to leave. He could barely walk and was obviously not getting any better. Drove around the spider web streets of Madrid trying to find our hotel and then just crashed.
Days off
1. Drove Andy to the Airport and stood around waiting for him to figure out his flight stuff. After he figured it out and was on his way home Gijs, Micah, Cody and I drove and got a hotel about an hour from Barcelona. Stopped by the Spanish Police again and again nothing came of it.
2. Barcelona. Just go. I can't even describe it. Fucking amazing.
3. Stayed in Valence, France which was a let down after Barcelona. Anything would have been though.
Fribourg
Arrived in Fribourg after a somewhat harrowing drive around Lake Geneva and through the Alps. Back to a three piece for the first time in over a year and the first time with Cody. The show was a bummer because the club was really small and we had to turn down to almost inaudible levels but there were people there. Marc came out again with his friend James so that was fun. We were supposed to stay with the promoter which no one wanted to do so we decided to sneak into Marc and James' hotel and slept on the floor of their room. We got caught. Drove to Bern and got a hotel.
Reggio Emilia
Switzerland is not a member of the EU so we had to cross the border back into it, by way of Italy. The van was searched at the border by Italian police and their friendly drug dog. Cody had a plastic baggy with Excedrin in it so they took him in a room and then tested it for narcotics. All in all it was pretty painless. Went to the club and met the people who set up the show who were all fucking incredibly nice. Had one of the best meals I've ever had with our new friend Christian. A couple of bottles of wine later we went back to the club, played, and drank some Italian moonshine. Went for pizza afterward. Had to have pizza in Italy, it was delicious.
Zrenjanin
Strangers in a strange land. I have been against war or said I was for as long as I can remember but I have never seen war. I've never known it. I had never experienced the aftermath of it. Now I have. It is eye opening and heartbreaking. And Serbia is ten years removed from their war. We met the promoter of the Serbian and Croatian shows, Alex, in Belgrade and then drove to Zrenjanin for that nights show. Everything is in Cyrillic. Even in countries where I don't speak the language there is always the comfort of the Latin alphabet. You can figure out the context of something at least, if you understand the letters. It was intimidating to say the least.
The drive to Belgrade was long and we were late. We were stopped at the Serbian border for over an hour trying to get Serbian Car insurance because ours was not valid there. When we finally arrived in Zrenjanin we loaded straight into the club and played. It was mostly a blur but I found out quite a bit about U.S. foreign policy from the other side of the story. The region we were in was called Banat and that night we stayed at the Social Democratic political headquarters for that region. You couldn't drink the water because it is so polluted. In their fucking political headquarters, you could not drink the water. The U.S. fired Tomahawk missiles at these people, destroyed their economy and then left them to rot. And we were told it was a human rights mission. I wonder what's happening in Iraq right now. Thanks Uncle Sam.
Belgrade
5 million people live in Belgrade. 3 million of them are refugees. Beautiful people, Beautiful city. Amazing architecture. Turn a corner and there's a bombed out building that they can't even afford to tear down. A pack of cigarettes cost 100 dinars. That equals 1.50 american. I'm done on my political rant. It was eye opening, that's the last I'll say. The show in Belgrade was awesome. The promoter Aleks had a billboard made for it. The whole experience was outstanding. The opening band was like the Serbian MC5. Colossal sound.
Zagreb
Made it through both the Serbian and Croatian borders without incident. Having Aleks with us helped since none of us speak Serbian. Zagreb is another beautiful city. Much more western than anything in Serbia. Maybe it's because Croatia is catholic and Serbia is orthodox. Back to the Latin alphabet which is somewhat comforting. Had dinner at a very nice restaurant near the club. The "club" is actually a small theater. When we got back to the club from dinner Cody and I were interview by Croatian National television and Cody was asked a bunch of questions from before his time in the band which was pretty funny. The show was amazing. Packed full of people. Micah and I literally broke the stage on "Come Back to Shelby" so dealing with that was rough and by the end of the set the whole stage was pretty much toast. Three encores. Gijs got really drunk on coke and red wine. Stayed in a fancy hotel and stayed up way too late.
Chemnitz
Woke up early and got out of Zagreb. Headed back to the EU. At the Croatian border we were stopped and told to pull over. They took Gijs and his bags into a room to search for drugs. Then Micah. When they brought me in Micah was putting his stuff back into his bag. They had just thrown it everywhere. I was emptying out my jacket and had some Advil in a plastic bag. I put that Advil in my jacket in june and had completely forgotten that I had it. When I handed it to the police officer he got really excited and started saying "Ecstasy! Ecstasy! Ecstasy!" like he had tourettes. Micah left the room and they strip searched me. Standing in my underwear in some cold ass room with some Croatian guy patting me down (even though I was only in my underwear, did he think I hid something under my skin?) was not the highlight of my time here on earth. Cody got the same treatment for the Excedrin that he had from before. Gijs and Micah came out unscathed. After standing outside for two hours in the freezing cold they finally told us we could go, but they hadn't given us our passports back, so then we had to wait another 25 minutes for those. It was all pretty scary. They probably could have done whatever they wanted to us. We finished the drive to Chemnitz without incident. The club was pretty small and we played on the floor but the people were really nice. I had a long conversation with some German kids about how the states are not like The King Of Queens. Honestly, they thought that we are like that fucking sitcom and were amazed that I told them that show is bogus. The club has a tradition that all the bands who play there do a shot of liquor that the club makes. Garlic schnapps. Fucking disgusting. Gijs procured a bottle of it for some reason. I can't honestly say that I gave my all at this show. I was pretty much done with the day after the strip search. Driving through Austria was beautiful though.
Lauchhammer
Lauchhammer is a small town very near Dresden. The club is more of a co-op with people who just want to bring good music there. They only do one show a month. The show was a lot of fun. The stage was weird. It was one of those stages that just eat up stage sound. I could have been as loud as Lemmy and it wouldn't have made a difference. It was also weird that when we first arrived at the club everyone was dressed normally but after soundcheck we went to shower and hangout at the hotel and when we came back everyone had cowboy hats on. I thought they were gonna hate us, but it went over really well. We stayed up late at the bar drinking. One of the bartenders had on a Vinny Testeverde New York Jets hoodie. I started to talk to him about football. He had no idea who Vinny Testeverde was. He didn't even know anything about American Football. Why did he have the sweatshirt? You guessed it, the fucking King of Queens. Unbelievable.
Eindhoven
Bummer show. Drove forever to get there. It was at a skatepark which is a paradigm shift from the show the night before in Lauchhammer. Maybe 8 people there. Maybe. There's always gonna be some bummer show's on a tour and we just had to take this one in stride. Gijs was happy to be back in Holland though.
Tilburg
Eindhoven and Tilburg are pretty close together so we had quite a bit of time before we had to be there. Had Dutch pancakes which were nothing like our pancakes. I got peach and I was about half way through the first bite when I remember that I only like peach flavored things and not actual peaches. Tilburg is another in the long line of beautiful cities we've seen. The show was at a great venue called 013 and I had a giant porkchop for dinner. Drank quite a bit in the dressing room before the show and when I went up to the venue it was packed. It was the last show of the tour and we laid it out. Hung out at the venue drinking for quite a while and then went to some bars for after hours. It was the last night of the tour so we wanted t really have fun. We did. Had a great time with Gijs and his girlfriend Bea and our other booking agent Jair. Tour over. Sleep. Head home.
It's impossible to put an entire months worth of experience into something like this and this is long winded reading as it is, so I've just compressed everything. Maybe you'll at least get some of the gist of it through here though. Thank you to everyone who went out of their way to make the tour a success. You know who you are (and so do we) and we appreciate it.