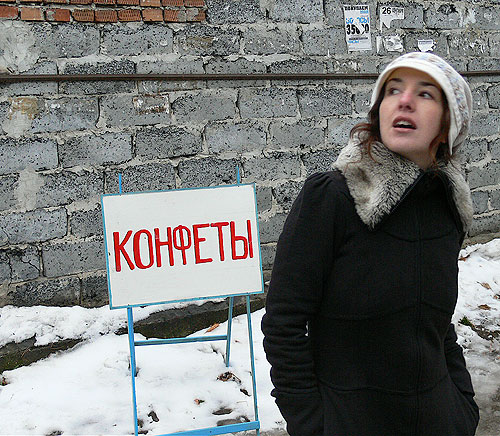 MP3: Half My Kingdom
Get to know Alina Simone. She's playing SXSW Wednesday night. Details here.
How many times have you performed at SXSW?
This is my 2nd time.
If you've performed at SXSW, what's your best memory of the festival?
Last year I was staying with my friend Alan on the outskirts of town. The night before the festival was over and I was flying home, Alan got a wee bit tipsy and fell asleep. He had deadbolted the door so I couldn't open it with my key. I drove over to find our mutual friends over at the Topple Records house and recruited some folks to bang and scream at his door. When the (drunk) neighbor came outside to see what was going on, we told her what happened, and she helped us bang and scream too. Nothing worked so Alan's ex-girlfriend finally broke the downstairs window with a borrowed hammer and I crawled inside. I slept in my coat under the open window, amongst shards of broken glass. I didn't know how else to reward my partners in crime, so they both got free Alina Simone t-shirts and cds for their efforts. Alan woke up the next morning (with no idea what happened) only to be greeted by an empty apartment, a broken window, a note from his ex-girlfriend, and a pile of glass.
The next morning I bumped into a good friend at the airport. We had been having dinner right before I went home to Alan's and embarked on this whole fiasco. I said to him, 'You won't believe what happened after I dropped you off last night, it was totally crazy!" And he said, "Oh yeah? I went to a party and the building collapsed."
Share one thing that you know about Austin (a fact, bit of trivia, etc.) without using Google for help.
I lived in Austin for three years and served as a VISTA volunteer fixing houses on the East Side, so I know Austin really well. I will tell you this: the best kept secret in Austin is the bar 'Bout Time, which is up off the IH 35 access road, north of the city. I spent way, WAY too much time there…
Shiner Bock or Lonestar?
Lonestar; it just sounds good.
Which statement best summarizes this year's experience?
* Play as many shows as possible
* See as many bands as possible
* Hook up and party with friends
* Play a show or two and get out of town
I was the first category last year, but alas, this year, I am in the fourth category with a dash of category #3. To make up for it, all of my bandmates are in category #2.
For those not familiar with your music, what bands have others said you sound like?
I will be playing a mostly Russian set at SXSW this year, presenting my cover versions of the songs of Soviet-era, punk diva Yanka Dyagileva. These songs are the focus of my new album, 'Everyone is Crying Out to Me, Beware,' which is coming out this summer. Someone recently described the music as: "Polyglot pop-punk-folk, Eastern European division"
Booyakasha!
Pimp your SXSWshow:
Official showcase thingee: Wednesday, March 12th at the Hilton, 18th Floor, 11 pm