I think there are still some people out there who aren't seeing the new site. Hopefully this will be resolved by tomorrow.
BBC has a SXSW blog.
What we got: After the Jump Day Show, Viva Radio, Porchlight Pop Fest, Mint Records, and seriously a lot more.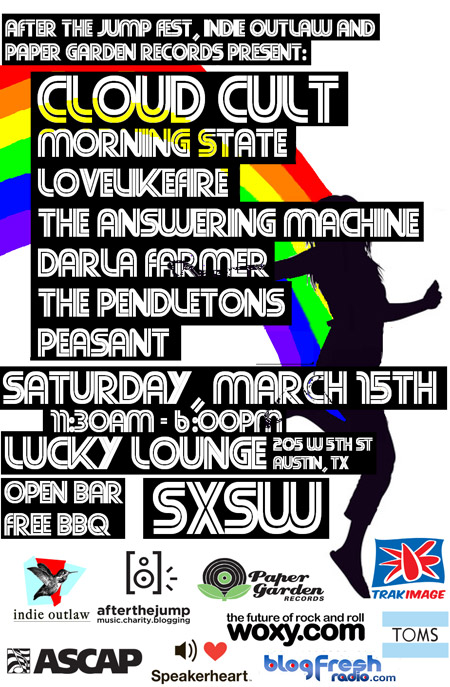 SXSeattle official SXSW show.
2008 Furniture Records Party
Friday March 14th | Furniture Residence 1009 E. 44th St.
Free Beer, 2 "stages", Please be respectful of our neighbors.
2pm Los Llamarada ((SS records)) Monterrey, Nuevo León Mexico
3pm Modey Lemon ((Mute, Birdman)) Pittsburgh
3:30pm Buffalo Stance ((obey your brain)) Philadelphia
4pm Pterodactyl ((Cardboard, Brah)) Brooklyn
4:30pm Jason Forrest ((Sonig, Cock Rock Disco)) Berlin
5pm GOWNS ((Folktale, Cardboard)) San Francisco
5:30pm Shooting Spires ((Cardboard)) Brooklyn
6pm Thee Ohsees ((Castle Face, Tomlab)) San Francisco
6:30pm Awesome Cool Dudes ((Furniture, obey your brain)) Austin
7pm Reykjavik! ((12 Tónar)) Iceland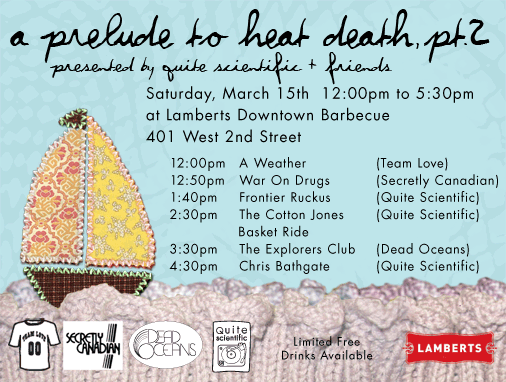 Viva Radio
American Apparel | 1325 S. Congress Ave. | RSVP

Friday, March 14th 2008

1:30 PM – The Teeth (Philadelphia, PA)
2:30 PM – Douglas Armour (Los Angeles, CA) (Performing Solo)
3:30 PM – The Apes (Washington DC)
4:30 PM – Sunburned Hand of the Man (Boston, MA)

Saturday, March 15th 2008

1:30 PM – Blues Control (Queens, NY)
2:30 PM – Greg Ashley (Oakland, CA) (Performing Solo)
3:30 PM – Mika Miko (Los Angeles, CA)
4:30 PM – Special, Surprise Guest

DJs:

Gaslamp Killer (Los Angeles, CA)
Ripley (Wooden Shjips) (San Francisco, CA)
Max Wowch (Brooklyn, NY)
Markus With A K (Austin, TX)
7th Annual Porchlight Pop Fest
Salvage Vanguard Theater | 2803 Manor Road | FREE
Friday, March 14th
Lump (12pm-1pm) Boston, MA
Fivehead (1pm-2pm) Austin , TX
Earlimart (2pm-3pm) LA, CA
Castledoor (3pm-4pm) LA, CA
Let's Go Sailing (4pm-5pm) LA, CA
Toddle (5pm-6pm) Tokyo, Japan
Rademacher (6pm-7pm) Fresno, CA
The Voom Blooms (7pm-8pm) Loughborough, UK
Saturday, March 15th
Special Guests (12pm-1pm) Austin, TX
Zykos (1pm-2pm) Austin, TX
Peel (2pm-3pm) Austin, TX
Headlights (3pm-4pm) Champaign, IL
Joan of Arc (4pm-5pm) Chicago, IL
The Little Ones (5pm-6pm) Atwater Village, CA
Someone Still Loves You Boris Yeltsin (6pm-7pm) Springfield, MO
Zookeeper (7pm-8pm) Austin, TX
Saturday, March 15th
Foreign Islands 11-12 NY, NY
List Christee (Kevin Barnes from Of Montreal) 12-1 Athens, GA
Gerard Cosloy DJ Set 1-2 Austin, TX
Octopus Project 2-3 Austin, TX
——
J. Black's Feel Good Lounge
FRIDAY MARCH 14th
12 pm…Southern Drama
1 pm…subNatural
2 pm…Death is not a joyride.
3 pm…The Raven Tree
4 pm…Goodnight Goddess
5 pm…The Bruce Smith Band
——-
Anodyne Records
Thursday, March 13th | Room 710 – 710 Red River
1:00pm – The Valley Arena
2:00pm – Roman Numerals
3:00pm – Sirhan Sirhan
4:00pm – Architects
5:00pm – The Life and Times
Mint Records/Six Shooter Hootenanny
Thurs March 13 (2-6pm) | Headhunters back patio (720 Red River)
Free! with your lovely and talented hostess, Carolyn Mark. Catch performances by Bella, Vancougar, The Pack AD, The Choir Practice, Jenn Grant, Elliott Brood, Christine Fellows, Luke Doucet and NQ Arbuckle.