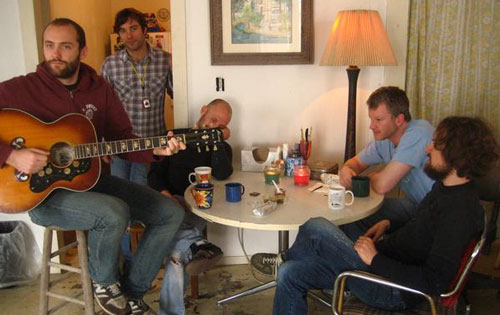 How many times have you performed at SXSW? If you've performed at SXSW, what's your best memory of the festival?
This is our pilot episode. Hopefully it'll go over like Family Ties. Being from Austin though, we've got plenty of memories that don't involve performing, most of which involve giant plates of brisket, free concept drinks and massive hangovers.
Share one thing that you know about Austin (a fact, bit of trivia, etc.) without using Google for help.
Dylan and all five members of The Band played their first concert together at the Austin Municipal Auditorium (now the space-aged looking Palmer Events Center) back in September of 65. Suck it, Newport.
Shiner Bock or Lonestar?
Shiner Light. Gotta watch the figure.

Daniel Johnston – Austin legend? Any interest in seeing him perform this year?
Legend. No doubt. Rumor is that he's performing Friday afternoon on a milk crate in a Quizno's parking lot playing a kazoo. Be there.
Distance you'll have to travel to get to Austin:Which statement best summarizes this year's experience?
It'll be about a half mile trip to get to downtown but we'll put on at least 8 miles just driving around looking for a parking space.
Which statement best summarizes this year's experience?
Play as many shows as possible
See as many bands as possible
Hook up and party with friends
Play a show or two and get out of town
In the past we've spent the week gorging on beer and street food, making fun of the badge nerds and sneaking into the Fader tent but this year it's just business, darling. It wouldn't be SXSW if we didn't find a way to get soused and make fools of ourselves at some point, so we'll be sure to fit that in too.
For those not familiar with your music, what bands have others said yousound like?
One writer said that our "layered psychedelia" reminded him Elf Power and a friend told us we're a bit like Grizzly Bear, but the jury's still out on those. I think we sound like Paul McCartney's Ram album in 3D.
Pimp your SXSWshow(s)/websites/whatever:
Unofficial shows/day/night parties
Saturday, March 15
Central Market North
4 pm
Saturday March 15
Ginger Man Pub
Genuine Recordings ATX Party
9 pm