This is the last big day show update we're doing. If we didn't list your event, we are sorry – please don't take it personal. There are so many e-mails coming in, I fear my inbox. Just post your info in the comments of your show..
Leading up to the festival, we'll be posting links, recommendations, and other related content. And then of course once we land in Austin we'll be doing daily coverage of the festival.
Showlist Austin has a ton of new content on their site. Seriously, go there. Print out Dan's listings.
Last FM has some SXSW content going on.
SXSW Baby has posted a lot of good information once you're in Austin.
Also: Pre-SXSW Guide for Cheap Fucks.
Okay… keep reading for party party party info featuring too many to list.
Rhapsody party featuring Clipse, British Sea Power, Sons and Daughters and more. Thursday. RSVP here.
Mess With Texas has posted line-up and time details.
Vice has updated their website for 2008. You'll know you're seeing the new site if red and black is the color scheme.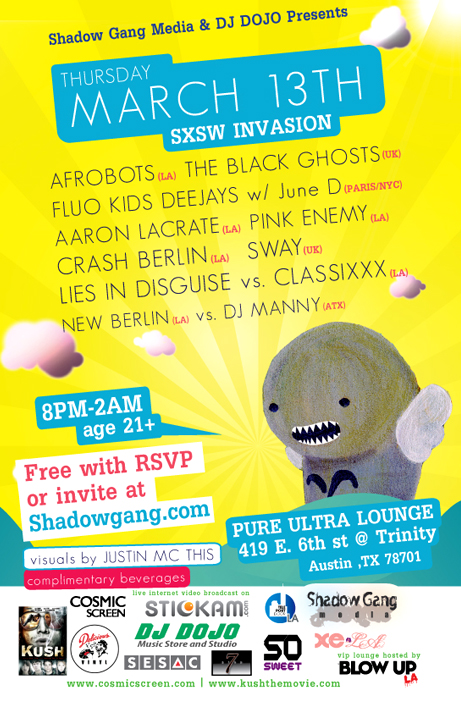 Join Hometapes and Absolutely Kosher, thrown in conjunction with Team Clermont and KRTU, at the Friend Island Party on Saturday, March 15th from noon to 6PM!

Gallery Lombardi | 602 W. 7th St. (between Nueces and Rio Grande, downtown)

Megafaun
Bear in Heaven
Stars Like Fleas
Pattern is Movement
Slaraffenland
The Gang
Sybris
Pidgeon
The MuseBox Presents: How's Your Booze Day Party
Thursday @ 11:30 AM, The Scoot Inn (1308 E. 4th St. @ Navasoto)
Inside Stage:
12:00 – 12:20 The Heavenly States
12:50 – 01:10 Morning State
01:40 – 02:00 Sylvie
02:30 – 02:50 Buck Brothers
03:20 – 03:40 Mason Proper
04:10 – 04:30 Moonrats
05:00 – 05:20 Sissy Wish
Outside Stage:
11:40 – 12:00 Nico Vega
12:20 – 12:50 Darker My Love
01:10 – 01:40 The Blood Lines
02:00 – 02:30 Drug Rug
02:50 – 03:20 Boys In A Band
03:40 – 04:10 Thieves Like Us
04:30 – 05:00 Krief (Brothers In Exile)
05:20 – 05:50 How's Your News Band
——-
Mike Galaxy Presents 9th Annual Day Party at SX08
Thursday March 13th @ Guero's (1412 S. Congress Downtown Austin)
FREE SHOW
12 Noon – A love like pi
1pm – Ghost
2pm – Transfer
3pm – Missing Andy
4pm – A kiss could be deadly
5pm – Saint Motel
6pm – The Crash Moderns
7pm – Falling Closer
8pm – BRYAN SCARY
8:30PM Hypernova
——–
HIGHER PUBLICITY
Saturday, March 15th | West's Art Music and Wine – 408 Josephine St.
NRSZ 12:30-12:50
SSSSPECTRES 1:00-1:30
KIT 1:40-2:00
THE MAE SHI 2:10-2:40
SCARY MANSION 2:50-3:15
GROUPER & INCA ORE (collab set) 3:25-3:50
GOWNS 4:00-4:30
THEE OH SEES 4:45-5:15
—-
Friday, March 14, 2008 @ The Palm Door (just off of 6th street)
The party is open to the public, but space is limited. RSVP to sxswweb2hoedown@gmail.com
12:00 Frightened Rabbit
12:30 Zykos
1:15 Republic Tigers
2:00 Right on Dynamite
2:40 The Virgins
3:30 AA Bondy
4:10 O' Death
5:00 The Indelicates