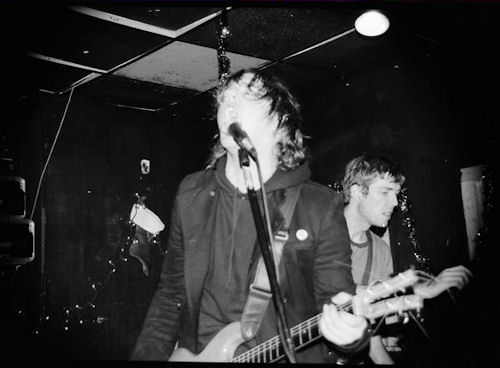 Allow me a few moments to show some Columbus love. I realize this here SXSW blog is being read by hundreds of millions of SXSW attendees, but it's necessary for y'all to know that this week in Austin it will be hard to spit without hitting a member of the Washington Beach clique….and the largest concentration of those bands will be playing the second annual Columbus Discount Recording showcase. Last year the label was stuck with the bad luck of playing a place that more resembled South Beach than the skanky dives they're used to, this year however, they've been assigned Lambert's Patio (a new venue with a prime location and prime BBQ) and the stock couldn't be higher thanks to vinyl collector scum the world around.
So they say what happens in Texas stays in Tejas (for months on end), that fabled proverb fits no band better than the Unholy Two, who make their SXSW debut this year. The Unholy Two revel in mythology. Is Chris Lutzko a neo-con? Did he support NAFTA from the beginning? Could he be accused of fear mongering? If you clicked yes to all of the above, you're 100% delusional like myself. The trio should have a 7″ for sale at this event, a document that will no doubt have you at the free clinic for a herpes test (a document which I haven't gotten yet?), regardless there are two strains running through their sound — pure cum-rock, pure fuck-you gimmick — the mind of a man.
The CDR showcase is also a time of remembrance, or to simply say "dude I wasn't there, I had no idea," as Tommy Jay, hot on the heels of the re-issue of his brilliant lost masterpiece Tall Tales of Trauma, will be playing alongside his confidant, and equally legendary, Mike "Rep" Hummel. These are the guys who will probably elbow their way to the front of any performance Roky Erickson might make in the next few days. Psych is not just a word, but a way of life.
I could go on and on — about how the Guinea Worms should'a been playing the fest way back when Mark E. Smith had teeth, how Necropolis could out angle any post-punk group in the tri-state area, how Night of Pleasure is now composed of two public school teachers, and the oncoming storm that El Jesus de Magico presents. I only know one thing, I'm starting my SXSW adventure swilling free PBR and having my mind fucked by the Magic Jesus' mind fuck (at high noon, at the day show sponsored by this here site). Beware.