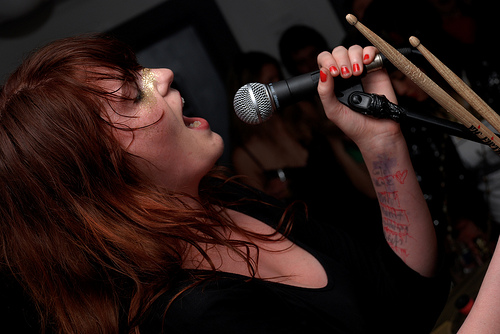 Photo by kristianyeomans
MP3: Girl With 1 Eye by Florence and the Machine
Every year I come to SXSW hoping to find that one band that represents everything I love about both the festival and music in general. It's a lofty goal, but I believe! The first year I came to SXSW I found that in the form of The Decemberists. This year it was Florence and the Machine.
I think I learned about her though an article in NYLON, I'm not sure. Anyway, I got to her BBC showcase early to get up front and what transpired over the next 40 minutes was the best time I had all week. Florence had a guitar player with her and she played the drums during one song, but mostly just sang and had one single drum on her side that she would occasionally hit. She had a great sense of humor to the whole event and a voice that would make even Darlene Love proud.
She ran through a set of covers (Cold War Kids, Beirut) and originals that really showcased her vocal range. And oh her lyrics! Whether it was singing about a woman whose eye she had to cut out (see mp3 above), or a bird she had to kill to stop talking, each song was just a delight to hear.
During the show she had mentioned that she was getting a bit hot and she said she was going to jump into the indoor fountain before her set was over. Of course everyone thought this was a joke, but she actually dove off the stage, grabbed a friend, and went into the water! Drenched, she came back to the microphone and finished her song. I'll never forget this set. And thanks to Youtube, you can see this watery moment yourself:
According to the BBC, her first release was limited to 500 tapes and she's currently working on a full length album. I am hoping she makes it out to the US for a tour, or at the very least for SXSW again so we can book her at our next donewaiting.com day show!
So many musicians just run through the motions when they're onstage, it's a joy to see someone actually putting on a show for the audience.
Here's another song she performed at the event: