Photo's By Steve "Homeschool" Lieb check his blog The Grip .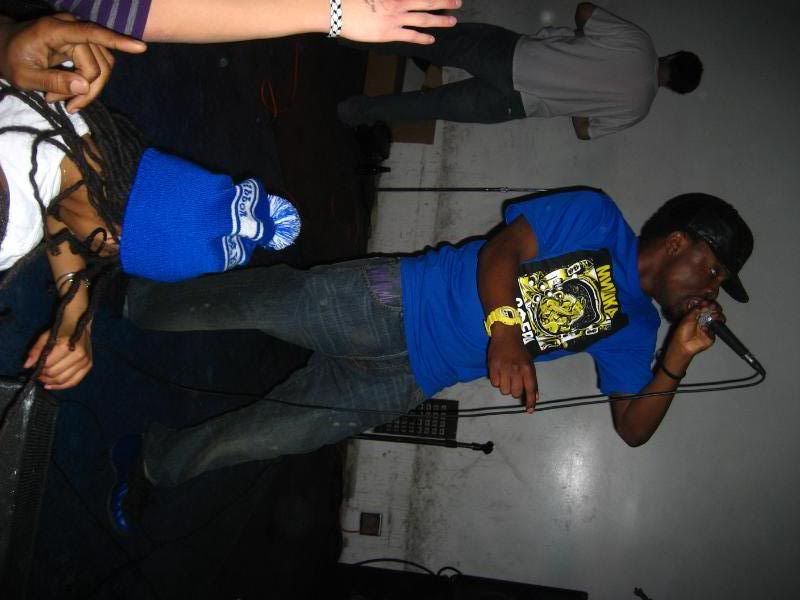 MP3: Wale & Catchdubs:100 Miles & Running Mixtape
Wale came to Columbus this week. The DC rapper had just announced that Interscope had signed him. Bun B, Pharrell, Kanye, Lil Wayne would be fucking with him on his album. Wale had been rolling with Marc Ronson for awhile and had a strong buzz.
So I was kinda curious what that translates to on a 12-15 dollar ticket in Columbus,Ohio. We are 2.5 kids and dog and all. Coke Zero and Clear Pepsi didn't test well. But we did invent the digital screen that tells you how much your Wendy's is. So I guess we are a good gauge of whats gonna fly between the coasts.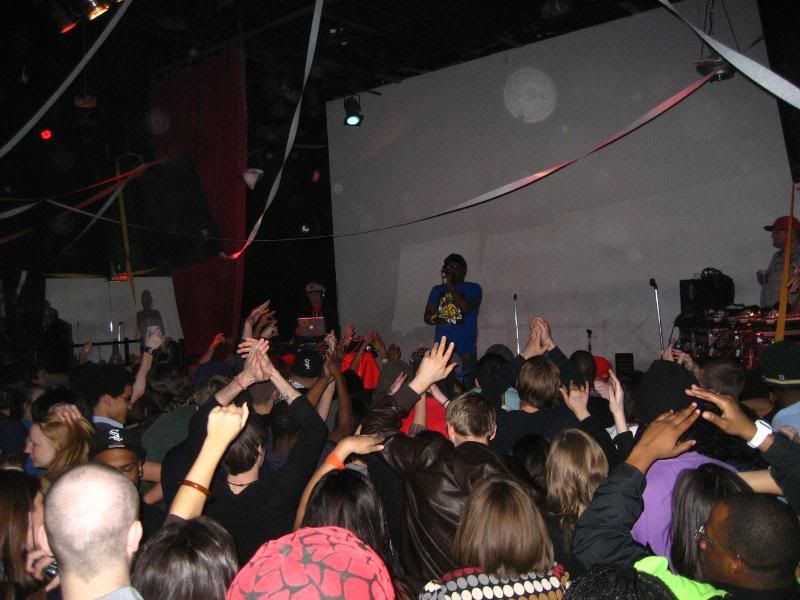 Thanks for the free tickets Scooby. I popped in after receiving a text from Cashola saying that ravers were losing but Wale was about to go on. I guess there was some techno playing that the crowd wasn't feeling. I bumped in J-Swifa from Fly Union immeadetley who asked me if I saw Fly.dot performance. I said I was at Skylab, watching artistic types. He told me I lost, cause Fly U. killed it. From what I gathered there had been some underground rap types, turntablism, Fly Union, and then some techno. I don't know if it was French, house, Bmore or just straight Rofl at Ravers tink tonk. So my level of losing is still unclear.
Anyway. Wale hit the stage and it was live as fuck. Being able to rap and rapping over G0-G0 and other dance musics is really good fucking idea. Rapping over dance music is a really good idea. You could seriously walk up to any female you know, and they would dance with and try to kiss you.You would be dancing and realize that it was with your mans ex-gf and dip to the next girl.You could tell one girl in front other that she needed to kick rocks cause she wasn't as pretty as the tender you were talking to.
Heck, I pulled one girl that was hugging up on me into the mens restroom, and then dipped on her. It was funny to watch her look confused at the men pissing in urinals as I ran out.
Another got on my nerves so I mushed her face. Like "naw, beat it." Ask Catalyst or Dynamik. It was funny.
Why? She flirts and says racist shit. She calls blacks brownies. I have never even heard that racial slur. Racism doesn't get my dick hard unless it comes from Anne Courter. It's corny. Later when she was flirting, I told her my mans and them(not Catalyst or Dynamik) would only talk to her if she gave them head. Not because I am creep. But because it was true. I would add the adlib, "jokes like Sarah Silvermen". My dood dissappeared with her. Yaow. took her on a trip to Gucci World.
My point is that Wale being able to rap and and rapping over dance music is a really good idea because it makes girls have fun. Cam interpolated Cindy Lauper on Purple Haze about this idea.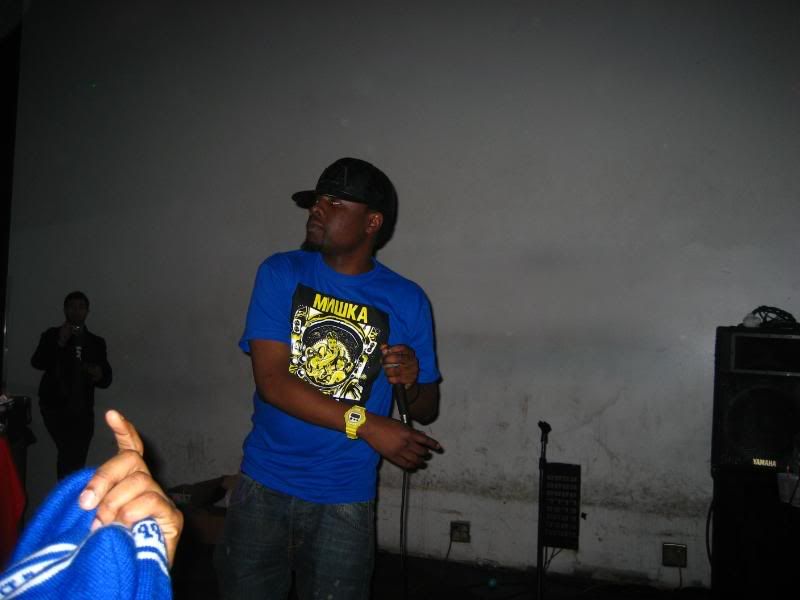 All praises to Wale & Catchdubs. He was onstage pitching patterns with a DC drawl over MIA, and Justice.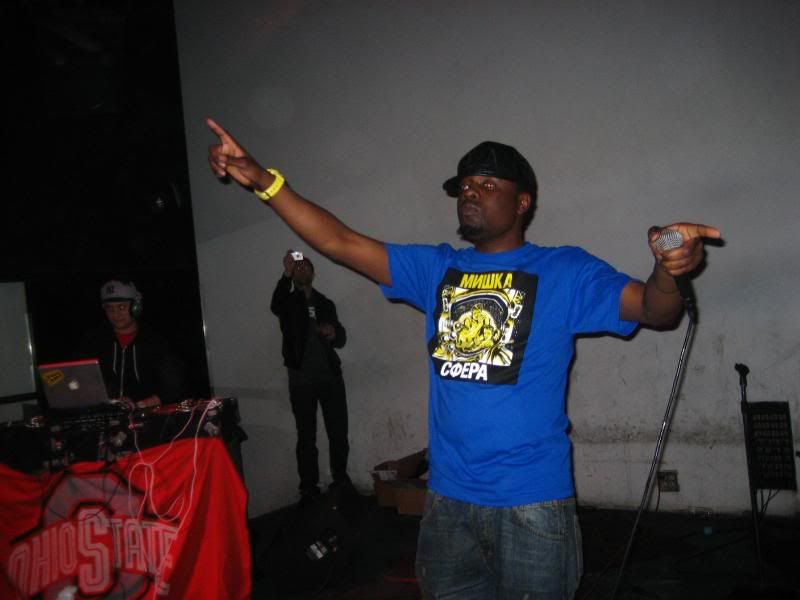 When Catchdubs dropped the beat for "Nike Boots" that is on the Lil Wayne's "Da Drought 5" mixtape shit got even more bonkers. Wale exuded excellence to a sea of estrogen. He said peace to Harlem and the Dipset phenomenon. Even though I was rocking vegan Vans(peace to Embassy), I still screamed that I got them on like he has them on.
Catchdubs cut out the beat to "Nike Boots" and amped it up further with Dead Prez's "bigger than Hip Hop" and "Simon Says" by Monche. The crowd song along to the idea that I-tunes ratings are more racist that Reagan or whatever he says. I have never been so energetically angry at I-tunes. And I have no idea what that lyric is about.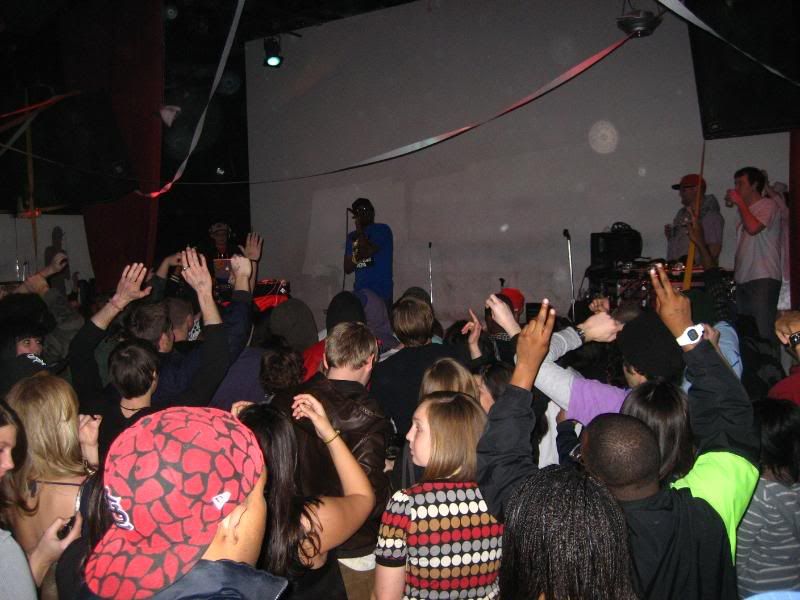 Anyway Columbus was aware of Wale despite the oppressive nature of I-tunes. The crowd continued to dance and have fun. Afterwords, we dipped back to the Milk Bar.