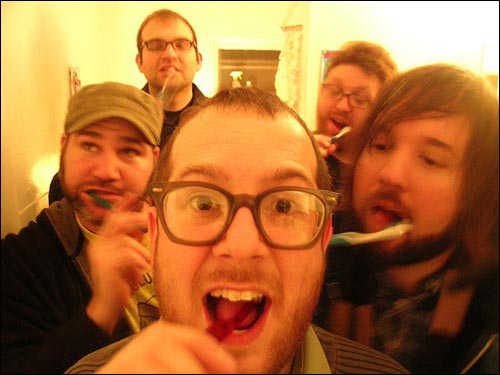 MP3 Cutout Bin
MP3 Korea
With the exception of the forthcoming debut by Lydia Loveless, there isn't another local release that I've been anticipating more than The Kyle Sowashes' Yeah Buddy. I was tempted to call Kyle the "everyman of Columbus indie rock" – he plays the part perfectly, from the look (scruffy beard, glasses) to the sounds he creates (think 1991 Chapel Hill, North Carolina). But Kyle is anything but the everyman. Guys like Kyle aren't truly appreciated until after they've left a scene, either by finally throwing in the towel or picking up stakes and moving on to the next opportunity in another city. Kyle is a die-hard supporter of the Columbus music scene, you'll find him out and about taking in the sights and sounds of what this city has to offer musically. And if you hear about a great show coming to town, your first thought should be "I wonder if Kyle helped book this?" as he's brought some of indie rock's elite to town over the past few years (Eric Bachmann, Adam Franklin, Karl Hendrix Trio, etc.).
That enthusiasm and passion is carried over to the music, his latest efforts under his own name showing a maturity that his earlier efforts as leader of Tom Foolery and the Mistakes may have been missing. What you see is what you get lyrically. While so many pretentious songwriters say, "The lyrics are open to your interpretation. It's up to you to decide what the song is about," Kyle doesn't beat around the bush with vague lyrics. You want to know what's going on in his life? Just give Yeah Buddy a spin. Kyle will tell you about how he's in search of a new job in "My Resume" ("I think it's time I got a new job / Or started looking around at least"), his failure to follow through on making a mix tape for a friend in "Korea" ("A week or two that's what I promised you / Thought it was something I could do / But I was wrong"), or about a touring band he was trying to trade shows with in "Yr Band Flaked Out On Me" ("I totally got you guys on this awesome show up here back in December / That you apparently don't remember").
I'd be remiss if I didn't mention how much Kyle's (relatively) new band mates have brought to the music. Joined by Justin Hemminger (guitars), Brian Freshour (bass), Sean Gardner (keys) and Dan Bandman (drums), Kyle has created a release that could (and should) proudly sit amongst the finest by Guided By Voices, Pavement, Archers of Loaf, Built to Spill and Superchunk. Yeah Buddy indeed!
The Kyle Sowashes will be joined by Miranda Sound and Heavy Mole tonight at Andyman's Treehouse for the release of Yeah Buddy.