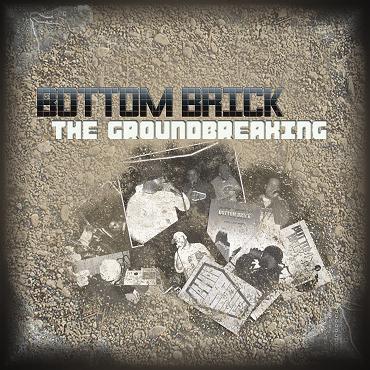 MP3: Cadillac Rap feat. Blueprint
The stock of Columbus hip-hop collective Bottom Brick has been on the rise as of late. Since the release of The Framework EP in late 2006, they have stayed in the spotlight with energetic live shows, side project EPs, and individual members showcasing their talents (like producer Seance's involvement in a recent production showcase at So What Wednesdays). This weekend sees the release of the group's first full-length album, The Groundbreaking, a self-released effort.
The Groundbreaking is 16 tracks long, boasting plenty "old-fashioned" boom-bap rap. Which is not to say that the material sounds particularly dated, but just that Bottom Brick will satisfy most fans of classic '90s hip-hop. The beats (mostly handled by the group's Seance and Mattinee) are solid backdrops for the MCs, highlighted by the horn-laced banger "Cadillac Rap" and the chilled out vibes of the aptly-titled "Cool Out." The group's MCs (Adjust, H.I.M Illaflo, and Seance) do the beats justice most of the time, ably handling varied subject matter and moods. There are a few questionable moments on the mic (the hook on "As It Is" comes to mind), but most of the time, the lyrics and beats mesh well. The album also includes vocal appearances by Columbus all-stars Blueprint (on the aforementioned "Cadillac Rap"), Illogic (whose unhinged verse contributes well to the ethereal "Anthropology") and Grmm Diabolic. For a group's first full-length record, it is not surprising that the album's pace bogs down a bit in the middle, mostly due to a string of songs about life's struggles. "Cool Out" gets the proceedings back on track, however, and paves the way for a more upbeat ending including the good-natured drinkin' and partyin' anthem "More the Merrier," the lone carryover here from The Framework.
Despite a few missteps, The Groundbreaking shows a group of hip-hop artists getting more familiar with each other and their roles. No matter the mood, there are tracks here that will complement it well.
Bottom Brick will celebrate its album release with a show (including a featured guest appearance by Blueprint) at the High Five on Saturday, May 3rd. Also on the bill is a tag team performance from Illogic & Ill Poetic, sets from Grmm Diabolic and Ol' Scandalous, and party jams from DJs Detox, Lefto, and Product. It is rare that all of a hip-hop album's vocal contributors are present for the release party, so the show should be a fine display of what the album is all about.