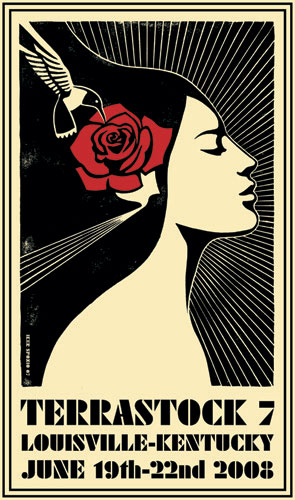 Long before the internets cracked open the portal that lent instant accessibility to just about every nook and cranny of the underground there was such a thing as printed media – the 'zine if you will. Back then it took weeks, sometimes months, to painstakingly compile interviews, retrieve records from the source, get photos, and paste it all down to templates that were then xeroxed and stapled and disseminated to mailboxes of those who had the patience, discriminate taste, a couple bucks, and ample time to digest it all.
Since 1998 editor Phil McMullen, publisher Nick Saloman (of Bevis Frond), and artist Iker Spozio, set out to unite all psychedelic heads under the umbrella of Ptolemic Terrascope, an "illustrated occasional" or ornately crafted 'zine that has introduced the world to such diverse artists as the Olivia Tremor Control and the Acid Mother's Temple, given detailed lectures on the essentials of Krautrock and British Folk, and basically guided inquiring minds towards the bygone renaissance and increasingly growing community of left-field artists and musicians. The effort and scope of each issue was such that the back catalog has become rarely found collector treasure (as each one was not only chocked full of obscuro reviews and expansive interviews, but also came with an accompanying disc of equally out-there music). Though as times have changed so has the frequency of Terrascope publications, and just last year, the magazine's headquarters (from the English countryside to Oakland, CA). One thing has remained constant, that's the annual Terrastock Festival – a weekend designed to enlighten with live performances from a curated laundry list of Terrascope faithful from all over the globe.
Now in its seventh year, the fest shows no signs of slowing down. This year promises to be one of the best of the bunch featuring performances by Brooklyn kraut-popsters, Oneida, Norwegian heavyweights, Motorpsycho, leader of the Acid Mother's Temple, Makato Kawabata, and reformed Canadian proto-punks, Simply Saucer. And as a bonus it's being held in Louisville, Kentucky, a measly three-hour drive from central Ohio, from Thursday June 19th-22nd. Full details can be found here, though the schedule is being tweaked daily.
Be warned though. As mentioned on their website:
"Terrastock is not an indie-rock A&R feeding frenzy. Bands and artists are there at the personal invitation of the organisers because we love their music and they love the way we do things. It's simply about the music, and about the whole Terrastock spirit. If you've ever been to a Terrastock, you'll know what we mean…"
In the coming weeks Donewaiting will become a resource for anyone who's planning on attending (or those abroad who wish they could attend) with interviews with the bands, schedule updates, and maybe even a Louisville recommendation or two. Stay Tuned.