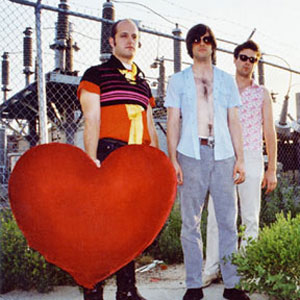 I'm pretty psyched to see Oneida. I've loved this band since I first laid my ears upon Come On Everybody Let's Rock. Within there's a song about cocaine that's "profound." But that was a while ago, and in the past decade Oneida has flown under the underground, doing exactly what they feel like doing. And doing Terrastock is something they should've been doing a long time ago. That decade has produced albums like the monolithic double LP Each One Teach One and their opus, The Wedding (a record made with industrial-sized, player-piano cylinders). To say they've been underappreciated is premature, just wait until your kids get a hold of these albums. Needless to say, the main attraction of Terrastock, besides a Simply Saucer reunion, is getting to finally see four of my head heroes in action (though they swear they played Bernies at one point). I caught up with Fat Bobby before some very prestigious shows in NYC.
Do you ever feel like you've reached a threshold of "epicness"? Like it's getting harder and harder to top what you did last time?
Your question assumes a certain level of premeditation that just is not there in the creation of our music.
I remember a time when you were searching for a real harpsichord. Did you ever find it? What are you looking for these days?
Ha! You have an excellent memory. We did NOT find the harpsichord we wanted at the time we wanted it….and then, lo and behold, we stopped stressing, moved on, and recently an electric harpsichord (in terrible shape) has come into our lives. A classic example of chilling the fuck out and letting the universe have its way with you.
Not to dwell on Oneida's past, but how did you get the idea to record The Wedding with giant music box cylinders? Did the process ever overshadow the recording of the songs? Were you happy with the results? Are we ever going to hear the raw tape from those sessions, the once promised "dub" version?
I'll just answer these questions completely literally/factually, in order:
1) It was a brainstorm one day, out of the ether.
2) No, the process and the songs are always one and the same.
3) Yes, very happy!
4) No, the dub version is unlikely to ever emerge.
How did the recent stint of shows celebrating the The Wedding with an string quartet come about? Will you be performing with them at Terrastock, or should we expect something completely different?
Good questions – our friend Nick Hallett, who is an admirer of "The Wedding," has organized the shows at The Kitchen in NYC with string section and additional musicians, performing the album in its entirety. His instigation has driven us to do this, which promises to be a very interesting collision between our world of rock/roll/etc and his world of performance art/theater/etc. We won't be performing this on tour.
What we WILL be doing at Terrastock is performing our upcoming album, "Preteen Weaponry," in its entirety. It's one song, it's definitely epic, to use your word from earlier, and it'll be out in August. It's definitely the right piece of music for Terrastock, and we're psyched to do it.
What's your experience with Terrascope? Was it at all influential during the early years of the band?
I'm a HUGE Bevis Frond/Woronzow/Terrascope/etc fan, and have been since my older brother was taping me the original Woronzow imports in the late 80s as they came out. The other guys are definitely admirers – we used to cover the Frond song "Reflections in a Tall Mirror" – but I guess I'm the geek for this stuff in the band.
How's Brah going? Can you give us a glimpse into the future of the label? I particularly love that Home record you did.
Brah is a beautiful thing. Couldn't be purer. There's a new Dirty Faces record in process, another Sinoia Caves is hopefully going to happen, and some other excitement that's probably not cool to talk about publicly till its final. But Brah is ruling, and like Oneida it will never make money and it will never go away.
I've heard rumors your next record will be one massive song, split into two lps. Truth? What can we expect this time?
Oh shit, I kind of answered this! Preteen Weaponry is one song – a single LP/CD – and it comes out in
August. It's part one of a trilogy of releases that is collectively titled "Thank Your Parents, and is intended to be listened to together. The second part, entitled "Rated O", is a triple LP that will be
released in February. The third part is still under construction, but it will be released in the second
half of 2009. As I said, we'll be rocking the entirety of "Preteen Weapoinry" at Terrastock. It will
be profound, which is a much better word than epic.
Oneida will be playing (you heard it here first) their latest album in its entirety Saturday, June 21st at Terrastock 7 in Louisville, KY. Tickets still available here.