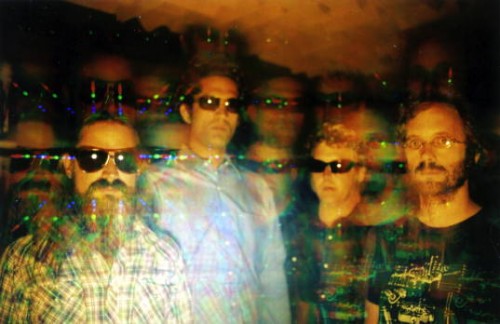 photo courtesy Holy Mountain Records
San Francisco's Wooden Shjips are the quintessential Terrastock band. Fuzzy, loose around the edges and classically Psychedelic, their unique brand of head music draws equal inspiration from Japanese rock, Kraut, modern minimalism and their lysergic fathers from the American West. To put it simply, their discography is essential listening for anyone even remotely interested in the Psychedelic with a capital "P". I caught up with mainman Ripley Johnson in anticipation of the first of what will hopefully be many Terrastock slots. This is my top festival pick.
After a flurry of releases in 2007, we've had about seven straight months with zero Shjips material. What gives?
We've been putting more energy into playing live, which is what we did in the first half of 2007 as well. We have a split 7″ with The Heads coming out, which will be available on our July tour with them in Europe. We're also finishing up our 2nd LP for Holy Mountain, which will be available in the fall. And our early vinyl releases have been compiled as "Vol 1″, and is out on Holy Mountain in June. There should be another 7" or two out this year.
Will the split 7″ be available at Terrastock?
The 7″ will only be available on the UK tour. We won't even have copies until we get there.
Has playing out live more often changed the sound or direction of the band?
Somewhat. But things change with time in general. We just try to keep moving forward.
As far as I can remember, the Louisville Terrastock show will be the furthest east Wooden Shjips have traveled. Are any of the members from this part of the country or have any ties here, or are you strictly a West Coast band?
We played New York last fall, and we just got back from England, so we do get around some. We're all from different parts of the country originally: Iowa, Vermont, Connecticut, North Carolina. We hope to tour more in the future. It's just economics.
Your initial jump into the music world was a self-released, nearly anonymous 10″ that was given away for free to anyone who gave you their address, eventually building enough word of mouth to become a huge underground release. Who came up with this idea, and how long did it take for everyone to catch on?
That was my idea because no one knew who we were. I was just interested in getting it out, trying to find an audience. The initial pressing went quickly, due to some blog posts, and because we actually paid shipping to send them out. It wasn't the most financially responsible strategy, but it accomplished our goal.
Terrastock this year is in Louisville, Kentucky, birthplace of the baseball bat. Are any member baseball fans? The A's look pretty good this year.
Nash and I are both baseball fans. You can never count out the A's. They always have scrappy players who work hard. I grew up a Red Sox fan, but I always pull for the A's too. The Giants I don't understand. I pull for them, but I have no idea what management is trying to do. They don't seem to have a post-Bonds strategy.