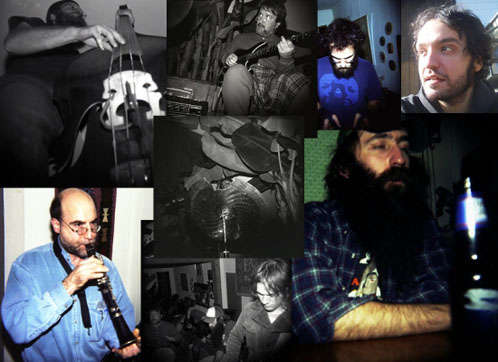 We are now only two weeks away from Terrastock 7, to be held in Louisville, KY, and it looks like Donewaiting has become the unofficial web home for previewing the event. So I'm here today persuade all of you who are on the fence about this great festival. At my count at least 37 bands from across the globe will be performing over the course of four days, June 19th-22nd. Full festival passes are still available and individual days are only $25 per day. It looks like there are a variety of lodging options out there too. Louisville is around a three hour drive from Columbus and less than two from Cincinnati and Indianapolis, so even a day-trip is within reason.
Rumors about special collaborations are beginning to pop up, and the one that has me really excited is the idea of Kawabata Makoto of thee most prolific Acid Mothers Temple sitting in with Louisville's hometown heroes Sapat (pictured above).
Last year Sapat mourned the loss of member David Sauter while carrying on with their excellent Mortise and Tenon, one of the great psychedelic head-cleaners of 2007. Their set will surely pay tribute to the lost local activist and musician. Kawabata is also rumored to sit in with Philadelphia's Bardo Pond.
Confusion is abound as to who exactly Sleeping Pill are, though it is safe to say the members will include Ira and Georgia from Yo La Tengo. Who else will they ask to join?
Terrastock veteran Bevis Frond have canceled due to a bereavement.
And finally, did I mention that psych/out legends SIMPLY SAUCER are playing on Sunday. SIMPLY SAUCER. If that name means anything to you, and you live within 400 miles of Louisville, you're there, right?
More to come in the next fourteen days…