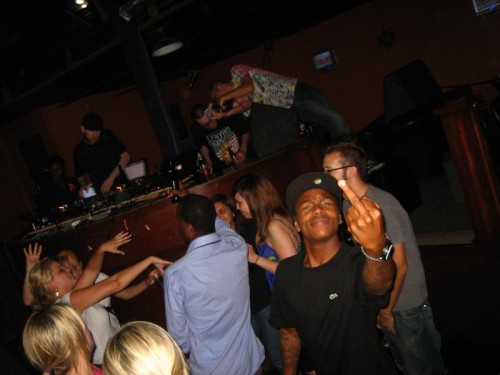 This picture is not indicative of the turn-outs of Get Right. Hit their MySpace up to see the success. Also look at Johnny Cashola's Lynard Skynard shirt. Look at Dirtnaps shirt too. Look at Detox cause he don't dress weird. Just don't look at Franz from Triceratops if you are at work.
The number one phrase. The only phrase that has counted is Get Your Mind Right. It's Scientology with results instead of aliens. If not "Shh, lady, Gargle".
Anyway.
So When DCKareem of the number one sex shop Milk Bar teamed with Columbus' most versatile deejaay Detox, and Johnnny Cashola (who is known to be a part of fashionable society because of his or her regular participation in social activities and fondness for spending a significant amount of time entertaining and being entertained) linked up to make a dance party that is soo Columbus, soo well-respected; it was only a matter time they put a mixtape on smash.
It may be difficult wrap your head around this tape if you aren't from Columbus. See Columbus really loves Gucci Mane, and Dipset. Trap rap has run downtown nightclub Culture (white and black) for as long I can remember being willing go to nightclubs with the insurance I would not have to hear drum n bass or jungle. We hate ravers. We like hard shit. And we like comedy. And this ain't irony. Except when Detox brings back Rick Ross saying working with the police and over and over again. But you know what. Rick Ross works with the police.
So when the intro starts off with Hell Rell lecturing someone about not being the best out. Remember the best out..
They were the best out. Goes into the Jeezy anthem, "Bitch Get Your Mind Right:" You might be like..in Columbus the smartest people on earth watch Killa Season constantly and listen to 4 year-old rap songs? What is this 03?
But this shit is really funny and in tune with what people like here. Go to Club Ice and say you don't hear "Came Down" by Cleveland's Fat Al. Do people like dancing to "Dopeman" by Gucci yessir. Do people dance to "Do The Down the Way" here. Naw. But thats a Cincy anthem. So consider yourself educated on what urban radio may or may not play but people like.
The joke about Columbus is that blog Bmore dejays are tolerated because of the off chance they may play "Wipe Me Down", which may or may not indicate we are assbackwards or really cool.
The only time this tape gets into so-called hipster land, don't worry, it's me snitches. Detox blended Hood N with terrorist anthem Paper Planes it's cause DW said so. It's complete with me making machine gun, laser and stab noises. I made kissy noises to but they got go nh'd. Other exclusive offerings include a J-Swifa/Catalyst freestyle in which Bo makes the only Oedipus complex reference on the mixtape, IOK Drama 3 and a Pillz/Saved by the Bell Blend.
So put on the mix that puts on for your city, on for your city and think about think the "Chickenhead" that should have paid her lightbill, but instead bought an outfit. This mix exists as funny, irreverant, document of an aspect of Columbus that is long overdo.
Get the Get Right mixtape at The Grip..
Ain't seen a hood yet where my nuts don't hang in my pt cruiser damn i look good damn i look good.