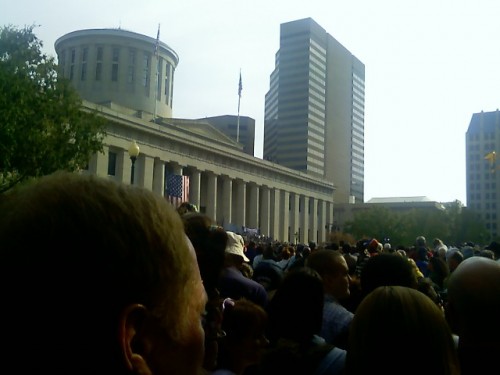 Barack Obama spoke on the Statehouse Lawn yesterday.Downtown was completely swarmed by Obama's movement. According to The Toledo Blade 60,000 people showed up. John Glenn, Mayor Coleman, and Governor Strickland were all in the building, er I mean on the lawn. It was actually pretty amazing to see that many people actually caring about something.

Skip this section if you don't want to hear me try to be funny and talk extensively about myself. Go directly to the next picture..
Columbus rapper/lifetime Democrat Envelope woke me up at Eleven, and reminded me to go the rally. The emcee was headed up there with his entire liberal family. I like Envelope's family but was little hung-over to kick it with anyone's kinfolk. So I headed out the door dolo.
On the packed bus to downtown, I wondered when Biden was gonna become cocaine slang, like you know how The Catalyst said, "I keep that whiteboy jumping like House of Pain." or Jeezy keeps "that white girl, that Christina Aguilara." . I mean if the only thing whiter that Cam's coke "is Brooke Shields". Why can't a rapper keep that powerful white, Joe Biden?
I Know that rappers aren't ever gonna call coke Biden. They respect Obama too much. In the new issue of The Source T.I. said that he is voting for Obama because Barack has a good plan for the ecosystem, and will address the energy crisis. If Obama wins, is hip hop going to become Patriotic, anti-war, enviromentalist music? Gotta do what the leader says right? Shit remember when everyone was reading the Final Call, and learning how to Build. Weird. Your favorite rappers might start driving a Prius, as well as advocating economic sacrfices for the greated good and even possibly promoting world peace.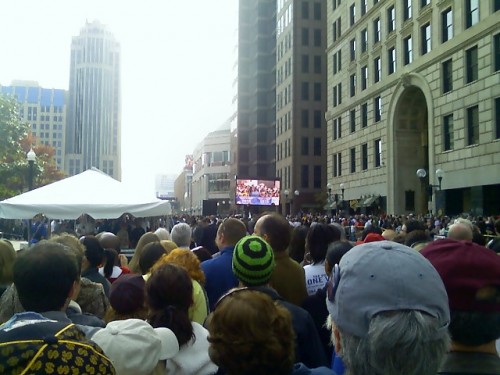 The Obama crowd flooded both the Statehouse lawn, and the adjacent roads. So there was a screen in the middle of High Street. This picture was taken on my phone with me standing directly in the middle of the High and Broad intersection. The crowd was pretty thick behind me. Mayor Coleman announced that this was the largest crowd in the history of Columbus.
Stickland spoke. Both the Mayor's and Governor's main points were Mkkkain is a lot like Bush so you should go vote early.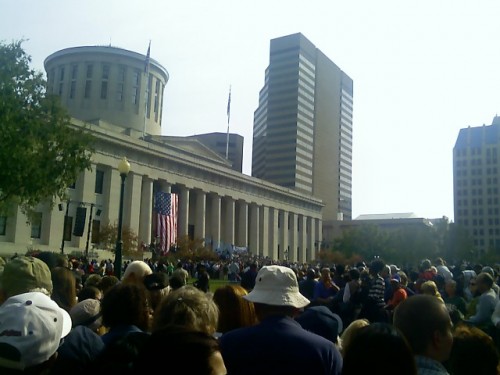 Right before Obama came on, "Movin On Up" by Curtis Mayfield played. Kinda clever. The song had been sampled by Just Blaze for "Touch the Sky" a Kanye West song with Lupe Fiasco. Cool cause Kanye, Obama, and Lupe are all from Chi, and the song was a hit a few years ago. Even smarter that it was the Curtis Mayfield song because. 1. It prolly resonated with older people. 2.He managed to let young people know he liked the same music as them without having to answer for Lupe being an Islamic Jihadist.
The melody of the Mayfield song made me look up like. The fuck? The next president listens to Kanye and Lupe?
Michelle Obama came on. She basically told the crowd that her husband thinks he can do everything. A true intellectual, visionary eager to change the world. And she basically said that he can do 75 percent of it, but he needs all of our help to make things happen.
The would-be first lady stepped off. Obama came on. He bigged up Mayor Coleman and Strickland. Then he gave John Glenn some extra love.
Barack's speech was more a call to arms than a detailed plan. His main goal was to get the voters to walk from High and Broad to Veteran's Memorial located on 300 W. Broad to vote early.
Obama did the whole Malcolm X referencing thing that he has been called out for. Basically he says Mkkkain is trying to "hoodwink" you. He paused , pulled up short and didn't say "bamboozled" and "led-astray". The crowd finished that for him. I mean. I kinda like the idea that next president has seen the movie Malcolm X.
You can look at a legitimate new sources to get his exact quotes on how Dick Chaney came out of an undisclosed location to vote for Mkkkain. Basically saying our VP can't even show his face in public is delighted to vote for Mkkkain.
Barack clarified at what point he would have his hand in your pocket. He asked everyone who make over 250k to put their hands up. And said that the people who will be immune to the tax increase "includes 98 percent of small businesses and 99.9 percent of plumbers,"
Much of what I could type here has prolly been in other speeches. Y'know ending the war in Iraq. And the whole thing that Colleen Powell endorsed Obama on;the ability to unify our country in these dire times.
The other thing I enjoyed besides the Malcolm X jump-off was the thing Jim Tressel bit from Obama. In the closing segment of the speech, basically asking people to come together to elect him president and then follow it up by everyone taking a hand in bettering the country. Mr. Obama said the motto of the 2008 football team. F.U.N. Fierce Urgency of Now. At the time I thought Obama was just way up on Buckeye football. But after some googling it turns out that Obama lifted the acronym from MLK, and then Tressel jacked Barack to inspire his team to rally around it's Senior Class' attempt to go to Capital One Bowl.
All in all to see 60,000 people actually think that Obama can change the world in these bleak times was pretty alright.