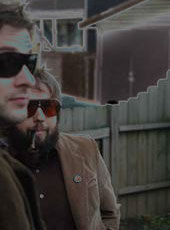 It's about time. I saw a bootleg of this being passed around at one of Miranda Sound's final performances but when I tried to pry it loose from Brian Kopaz's hands, I nearly lost my life.
Was the wait worth it? Are you kidding me?
I think Sean Gardner probably calls each of his projects "the closest thing to my heart" but I don't doubt that if he had to pick just one project to pursue in the future, it would be this band which also includes another former Kopaz member (Kevin Davison). The local rags both did in-depth features explaining the nightmare behind the recording of this CD (well, not really nightmare in the recording process itself but the loss of all material due to a hard drive crash) so I won't go into details here. But, the end result, the songs that were re-recorded, are among the best Sean has committed to CD and the kind that make you think "Man, if these guys relocated to Chicago or Austin or Sweden, they'd get signed to Barsuk/Merge/Dangerbird in a heartbeat".
I'm kind of a Ken Andrews geek and Melty Melty's Rise of the Birdmen (free CDs are being given out at the release show) sounds like a trippy daydream featuring Pinback covering Andrews-written material or vice versa, I'm not really sure. There's a wealth of sublime instrumentation, some computerized flits and flutters (that would make a good name for a song, "Flit and Flutter") and Sean's dreamy (seriously) vocals which could sooth babies to sleep.
If my friend Pbro (average yearly concert attendance = 0.23 shows) can make it out for this one, you should (and I should) be able to as well.
Details
Melty Melty, The Slide Machine, Six Gallery, Joe Anderl
@ Ruby Tuesday (1978 Summit St.)
Saturday, Nov.8