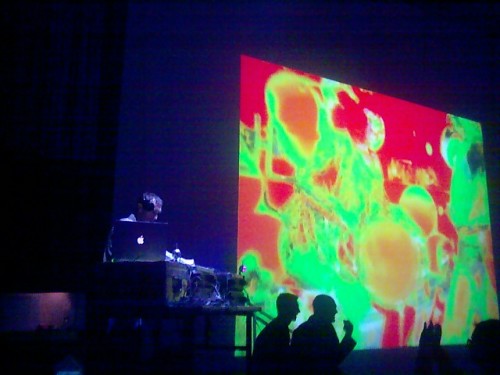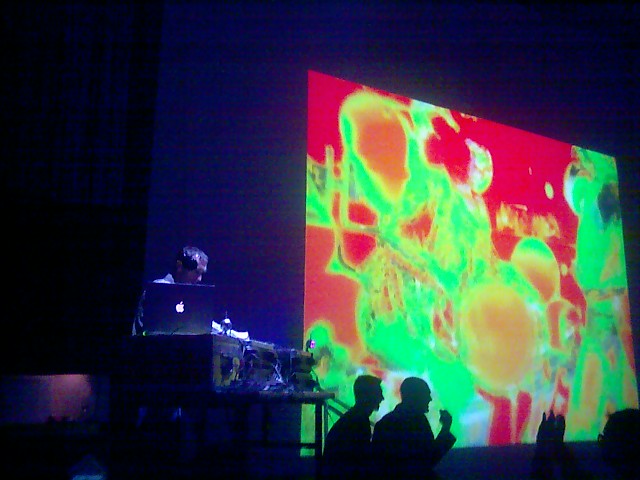 The Wexner Center had a Factory themed party called Andyland that enlisted perhaps the only superproducer in the age of internet/touring fame that is from Columbus, former Huntington Bank teller and Columbus State Calculus student, RJD2. The superproducer turned songwriter that will be the only instrumental hip hop producer that will be acceptable to sample  in the year 2032 because he played instruments and organized the songwrites in loop friendly increments on his last recorded release The Third Hand. The superproducer did not bring a band nor engage in fancy turntable combination arrangements for this this gala. The superproducer was here to play music off his turntables that were hooked up to the Serato computer program channeled thru his mixer for Ladies in waiting, Handsome suitors, townies with charisma, hustlers and general patrons of the arts.
Perhaps Bizzy Bone makes beats and is technically more famous and is from Columbus but does that ever come to mind? SO they invited RJD2 instead of Bizzy Bone. I believe that Jermaine Dupri produced Lil Bow in the beginning , and Jermaine Dupri is thankfully not from Columbus. So because this is a Warhol themed event in celebration of the dead artists exhibit in Columbus RJD2 was superproducer turned superstar dejay,
RJD2 is an old friend of the Columbus Hip Hop and Art communities. So before his playing of musicks he came and met up with his old friends in the food areas. The light-fare was catered by both Cameron Mitchell, and possibly White Castles. There were elegant truffles and extravagent pastries, and well as small square shaped beef offerings placed on similar sized baguettes that looked exactly like Sliders.
Due my lactose intolerance ailment, I elected to just drink Tom Collins. I soon realized I didn't know what a Tom Collins was. I began to fear that they may not have alcohol content. Perhaps they were a male version of Shirley Temples Luckily one of RJ's friends with an I-phone googled Tom Collin's.
After my paranoia was qwelled, We discussed the celebrations of the Obama coup. RJ then gave Envelope and I some recommendations on informative writings then the superproducer had to ready himself for performence.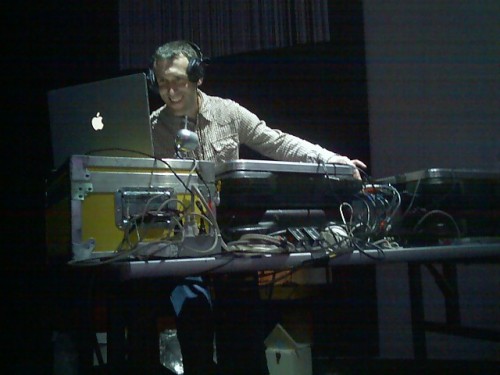 RJ started his set with the song "Andy Warhol" then mixed it into an old rap song. His set later included the Talking Heads, and that karoake song that Cam'ron sampled that has "Don't Stop Believing" in the hook.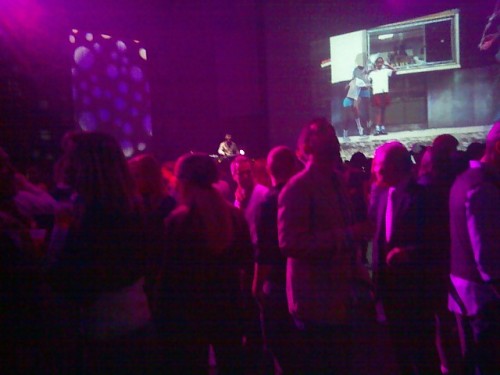 The inbrebriated socialites seemed to enjoy dancing to the selectors' selections while sipping eco-friendly achohol served at bars in the performance space.
I greatly enjoyed not having to gallop over to RJ's old haunt, Bernies Distillary,to purchase spirits.
RJ introduced an old friend for said stomping ground Bernies, a DJ True Skills. The superproducer proclaimed True Skills as the Godfather of Columbus Hip Hop. An apt-title do to DJ True Skills pioneering efforts in our cities Hip Hop community. One time True Skills bought me 40's when I was underage which may have contributed to me being an alchoholic. His greater feats include DJing all over the city since the 80's, song production, show promotion, and Hip Hop shopkeeping.
I earlier told a Jerry Dannemiller that DJ True Skills is the DJ version of the Cheater Slicks.
So RJ honoring True Skills was appropriate.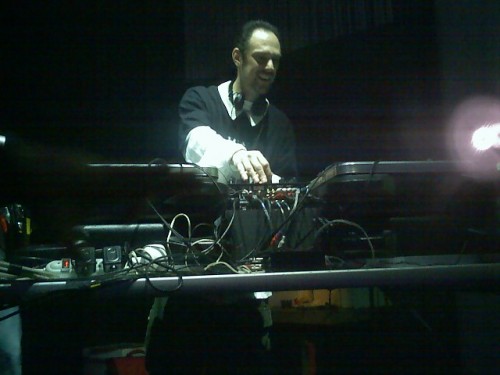 It would be incorrect to assume that DJ True Skills is an outdated, Hip Hop man stuck in the doldrums of bitterness. Quite the opposite, his selections of exotic pyschedelic records, Funk House and modern disco  records transforms any moment into a combination of a DIY juke-joint house party, and Studio 54.
He proved that to be the case once again at the Wexner Center.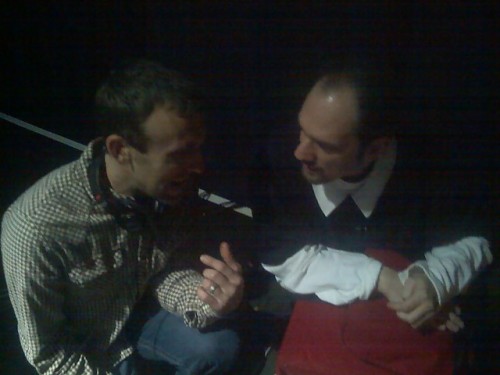 All and all the night was pretty decent. The Wex was able to throw a party for its supporters. And RJ got to spin records in his hometown.