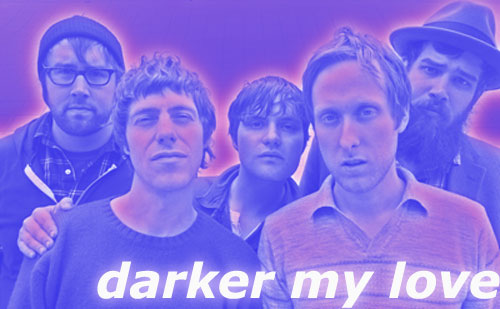 Darker My Love, The Strange Boys, Eulogies
Wednesday, November 26
The Summit
18 and up; $10 at the door (surcharge for those under 21)
************************************
CONTEST TIME – FIRST PERSON TO E-MAIL ATOMICNED@GMAIL.COM WILL BE ON THE GUEST LIST +1
************************************
Ben's having quite the week with his Benco Presents concerts. Following this past weekend's Gregory and the Hawk and Marnie Stern shows, L.A.-based psychedelic rockers Darker My Love roll into town for a Thanksgiving Eve show. With a sound that is influenced by bands ranging from the Dandy Warhols and the Stone Roses to the Beatles and the Beach Boys, expect a full-on aural assault tomorrow night.
MP3: "All the Hurry and Wait"
Full album download: Darker My Love (band's 1st CD)
Darker My Love is keeping an on-line tour diary although there wasn't an entry the last time they played in town as part of the CD101 summerfest (along w/ Dr. Dog and VHS or Beta among others). I asked bassist/vocalist/heavily bearded Rob Barbato what they would have written about playing that show:
I ripped a ton of White Castles at the show because they had a White Castle there. It was really crazy because we had played a show in L.A. and then flown out directly to Columbus without any sleep. We got there, crashed out for a little bit, and then went to soundcheck. My girlfriend came out to that show because we went to Cape Cod afterwards before all this touring started. It was like our last hurrah. It was really fun and we're psyched to be coming back to Columbus for sure. We played right before Dr. Dog and I think VHS or Beta played last. At the end of the Dandy Warhols tour we ended up hanging out with the Dr. Dog dudes in Denver because they played on the same night as us. They had the same situation in Columbus as us where they flew in and it was the last weekend they had before all their touring started.

CD101 is a great radio station. It's few and far between; there are only a few stations in the country that will take as many chances as they do.
Read the rest of the interview here.
Also on the bill:
* The Strange Boys – Ben thinks the Summit/Bourbon St. crowd will LOVE these guys
* Eulogies – Fronted by Peter Walker (owner, Dangerbird Records); will be back in town opening for the Duke Spirit on Dec. 3 (The Basement)