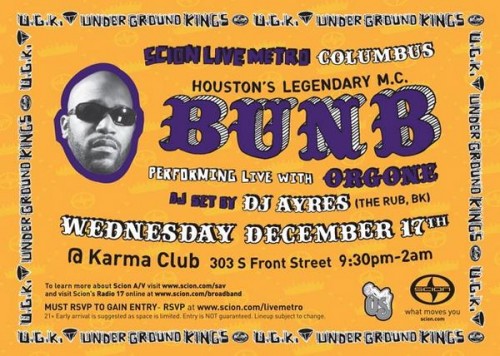 I used to live in this duplex in Lousiana. For a brief period a prostitute and her boyfriend lived in the other side of the house. The prostitute would come home and the couple would smoke crack while playing a chopped and screwed version of UGK's Pocket Full of Stones on repeat. I guess if you are a geeker that sells your body you don't buy many cd's. Maybe the hooker would say to her loved one, "Baby one day we will have a pocket full of crack like UGK and I will never have to have sex with another shrimper or off-shore driller again for us to get beamed up again". Crackheads have fantasies too right?  They prolly just involve large amounts of crack.
As far as my perspective, when I was laying in the dark noticing the stench of burning rock while a loud slowed down version of a song about selling crack echoed thru the walls a sort of scary initial impression of UGK. I would never have guessed that 1/2 of UGK, Bun B would be one of the most  important and open-minded people in rap. I mean besides the Geto Boys, DJ Screw and J-Prince no one matters more in Texas rap than UGK. What blows my mind about the Port Arthur, TX  trillionaire is  that he has done songs with Dizzee Rascal and kicked it with El-p. He was on the official "Paper Planes" Remix when everyone else was  "Walkin It Out" .  Shit dood listens to Suicidal Tendancies, Black Flag and The Ramones.  Now that's Gangsta.
This is one of them free Scion Live Metro Shows that Ohio Slayers does but the RSVP feature isn't on the site yet. I will prolly do another blog when they have the register feature up on the site.

R.I.P. To the other half of UGK PIMP C of course.