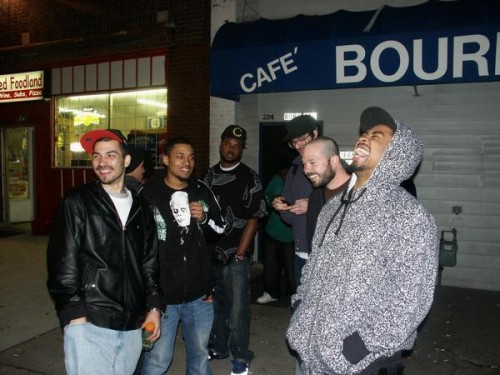 Enphanate,Meta4ce,Rich,Gorf, Envelope, and N.P.
MP3: If You Down… by N.P. aka Npayshint of Thought Set
If you copped the Catalyst's Fuck The Radio Mix Cd then you are already familiar with N.P. Or you might have heard him on either of Envelope's album. He was the one at the end of "Turn it up " singing:
"Sometimes I am pot head. Other days I am an alcoholic. One day I am gonna drop dead. And that's the only way I am gonna stop it"
If you didn't hear those songs…let me see. He has a voice and hook writing ability that a Method Man fan can run with and rap patterns that can compete with any NYC smack dvd mc. In fact Smack or Hood to Hood shoulda been a Boma last Summer when N.P. fought like three doods by himself in the parking lot.
Get Right had just ended, and a huge brawl broke out. When everything started making sense the whole thing looked like the video game Double Dragon or a like a Chuck Norris movie. Basically multiple people were attacking N.P. and he was just dropping them. It was funny cause normally when you see a bunch of doods attacking one of your friends your instincts tell you to intervene. But in all of us there was a weird calm like..Reggie has this. Don't ruin it for him.
And sure enough. Dood knocked them all out.
This isnt to say N.P. is a thug or a criminal. I am just saying dood fought and beat up multiple attackers at once.