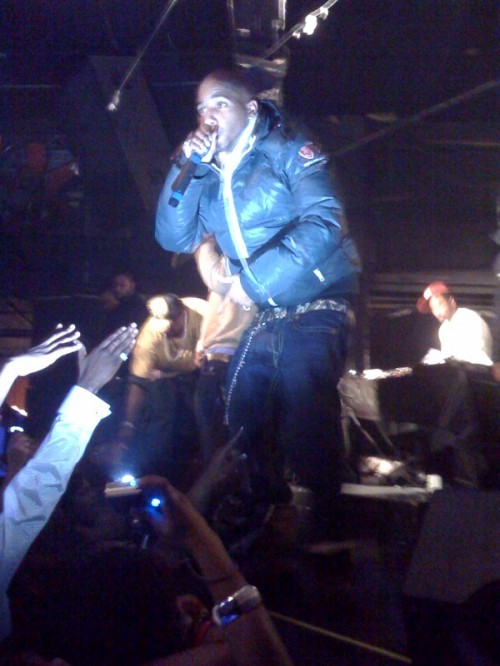 Juelz  Dip Dip. Santana Set Set.
Columbus rules because in one night Psychedelic Horseshit, Unholy Two, Blueprint, Envelope, The Catalyst, Juelz Santana, Jim Jones and Weedsteeler all partook in New Years Eve events.
After the jump it gets uncomfortable and self-indulgent.
I detest New Years. The combination of contrived partying on a scheduled mixed with a benchmark date that calls for reflection is usually fairly depressing and neurotic for me. I was already leary and then I heard about some truely gnarly news about someone that had been around the Columbus Hip Hop scene for sometime.
After talking to a couple folks on the phone that I knew were prolly going through some really fucked up emotions right now I decided that this was not gonna take me under.
What do the 5 Percenters say?
P.ositive
E.negry
A.ctivates
C.onstant
E.levation
SO…I was like whats the best thing about New Years Eve. Hella shows and parties.
I decided to start off at Bourbon Street where Psychedelic Horseshit, TV Ghost, Unholy Two and others were playing. My schedule only alotted for 15 minutes to eat a veggie dog from Extreme Wieners. It was mad early so no bands played when I was there.
I am still impressed with the idea of actually putting a real pickle on a hot dog instead of relish so this was a 15 minutes well-spent. In addition to enjoying Extreme Weiner's culinary innovation ; I also took note of the beauty that a music community can possess. Just a quick glance at these year-end lists  and the C-O should be proud of  the impact that its  rock n rollerz  influence had this year. So after looking at the interwebs and then seeing all the Siltbreeze and CDR cats hanging out on a holiday; it was kinda affirming that internet hyped music movements have genuine roots complete with family members and friendships beyond the blogosphere.
I guess later in the evening a flood happened before TV Ghost performed. The Bobo crowd took an Ark to a house and the show went on.
But I still sag my jeans, and yell fuck the police at any given attempt. So I missed all that cause I wanted to hear raps
Bridget Eshbaugh took this photo.
Raps I heard. I made it to the Weightless NYE at about 11:30. Envelope and Blueprint were on stage. Envelope finished up "Motivations" and that segwayed into "Tramp" by Blueprint. Place was packed and bustling with excitement.
Envelope told me the next day that he dipped after the ball dropped. I guess he recruited a homeless man as his hypeman, and performed at a house party off an IPOD.
I had left before this occured to meet up with Johnny Cashola who was spinning at the Circus.  The balldropped and then him and I jetted off to Club Karma to see Young Buck and Juelz Santana. A text message later told me that one of the dejays at the Circus beat up a photographer.
But I didn't see all that cause I was at Club Karma.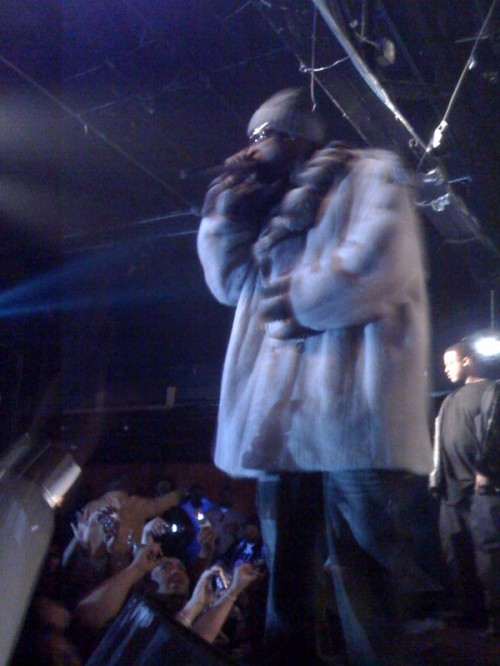 Young Buck was suprisingly dope. He did not perform off of an IPOD. He performed off of Serato which is a great innovation for a mainstream rappper. Usually these cats rap over their cd's vocal version which never made much sense to me. How can you be rich enough to have like zillion dollar chain,but not afford to not buy a Mac, and computer program for your performance to be worth the 50 bucks or whatever people paid to get into the show?
But Buck had Serato. He came out to "Swagger like Us" but flipped it to Swagger like Buck. It was pretty hard. He then went into "Stomp". That was gully too. The night took a weird turn though. He did some spoken word thing about how it was ok for real g's to cry when they feel pain. He was referencing his much publicized incident in which Buck cried on the phone to 50 Cent.
Yah Yah. Men can cry. But no one wants to hear that shit at 2:30 am on NYE. So I hit the bar like; Buck cool for breaking format but yer breaking my heart over here.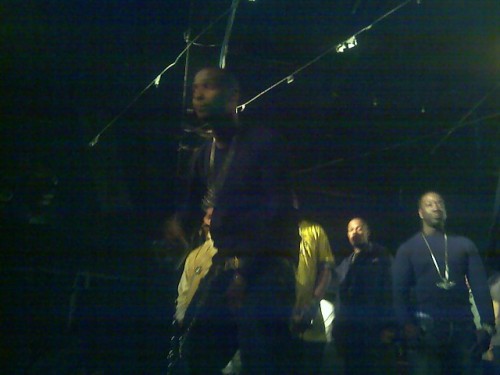 Juelz Santana didn't cry. He rocked  tons of hits. "Shottaz", "Crunk Music", "Hey Ma", "Santana", "Oh Boy", "Make it Work" all got the crowd bumping. The first 8 rows were girls, me and Cashola. (Who took the photos with his I-Phone).
At this point I realized that there was something wrong with me. I am in a club full of girls on NYE and alls I care is hearing music. I am willing to bet Cashola and I were the only people this lame in the whole city of Columbus.
Yeah. I go to Club rap shows for, you know, art reasons.
I also believe that I maybe somewhat sexist or racist. Women were flirting with me. Rubbing my back and such. I was nice but kept it moving because I figured they were only trying talk to me because they wanted to get their boyfriends mad.
Which once again makes me corny as fuck for not trying to get on at NYE and being at a fucking club rap show because of art.
Besides this obvious flaw in my person, the show itself was awesome.
Juelz said it was Dipset for life. He did "Pop Champaign" in solidarity with Jim Jones who was playing at Club Ice on Long Street. Which made me think Columbus was real cool cause it had two different Dipset members playing at seperate clubs on NYE. Especially when the crew is not exactly as strong as they used to be.
After this we dipped to the Weedsteeler NYE party. But everyone was already coupled up. I ate some chips. Dipped them in humussss. And went home.